Dave Nevogt, co-founder of Hubstaff writes:    Team management is not a skill that comes naturally to most people. It has to be learned, and there are usually plenty of mistakes made along the way. In my case, I fumbled around for about 10 years, lost a bunch of money, and eventually founded Hubstaff to automate the proven processes that I had developed, which had worked very well. This article goes over the management methods that work for my remote teams, but it can be applied to co-located team management as well.
Team management is the most important aspect in business for the following three reasons:
You can't build a successful company alone. Once you start growing, how your team operates will inevitably define the success of your company.
The goal of any business is to create an organization that can produce income for you, whether you are actively working in the business or not. You can never create that business without an awesome team.
Your team is usually the most expensive line item on a P&L. Hubstaff spends around 30k a month on labor and brings in around 50k – that means that 60% goes directly to labor costs. That does not include anything the founders take. This is important because it's easy to overspend and "waste" here just like any other P&L line item, but since it's generally a larger number your processes are all the more important.
The best part about this process is that both my team and I like it. If you want to read the complete 70-page book on how we manage you can get it here for free. Before I get into the exact process, here are some fundamentals to help put a framework around the process and allow you to understand it at a deeper level.
The Fundamentals of Team Management
1. Don't be a jerk
It's not needed, and it doesn't get results. It makes you look like you're unhappy and unhappy people are generally a pain to be around.
2. Lead by example, and expect people to get the hint
If they don't, then clarify your expectations. If they still don't get it, let them go nicely.
3. If there's a problem with a person, look in the mirror first
Quite possibly, you are expecting too much or you have not done your job as a manager to outline the work closely enough. Your team most likely needs a blueprint unless they have high-level experience and work styles.
4. You can't change people
You can teach people, if they want to be taught, but you can't change people.
5. People need to be accountable for their own actions
It's up to you to find and hire people that are accountable and responsible.
6. No excuses for work
It's either done or it's not. It's either quality or it's not. If you want your employees to embody this, you have to teach by example and establish a no excuses policy.
There are times when important things don't get done even though the employee is working hard, and this usually results from a miscommunication. Everything in a company is a matter of priorities. If task A is not done, chances are something else took higher priority. You've got to find out what that was and adjust.  SNIP, the article continues @ Hubstaff, click here to continue reading….
Image from Redbooth.com.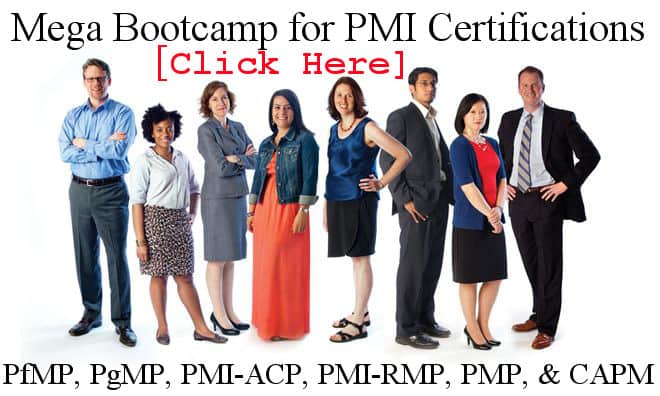 PMO Advisory Introduces Mega Bootcamp for PMI Certifications including PfMP, PgMP, PMI-ACP, PMI-RMP, PMP, and CAPM