Project Management Training
About Project Management
Since the 1980's, organizational resources dedicated to projects have increased steadily. Today, with greater intensity due to technology changes, global competition, more stringent regulations, and greater customer expectations, projects have become the main mechanism for organizations to execute strategy and deliver value.
Organizational projects are ubiquitous, ranging from the launch of the next i-device to construction of bridges, the pace of our society today is driving greater changes. Yet, even with the last few decades of the rapid development of project management and an increase in the number of project management practitioners, the project success rates have largely remained constant across the last decade.
Project management is the important discipline of initiating, planning, implementing, and managing one-time endeavors. To use an analogy, imagine cooking in an open pot versus a pressure cooker. Both will eventually do the job, but when the environment is highly constrained with severe limitations on schedule, cost, and requirements, then the normal way of cooking may be too slow and too undisciplined.
PMO Advisory offers courses for both the general public and for institutions and businesses. Scroll down to explore more.
Publically Available Courses
Project Management Essentials (1 Day Classroom ▪ 4 Hours Live-Virtual)
The Project Management Essentials course provides a broad overview of project management including the key terms and concepts. Starting with organizational goals and objectives, the course presents project management as an engine for completing the endeavor. The course will discuss important frameworks, useful tools and techniques, case studies, and an overview of the latest PMI certifications in project management (CAPM® and PMP®).
The course content is based on PMI's Project Management Body of Knowledge (PMBOK)® and PMO Advisory's consulting methodology and the latest industry standards and professional development. It will be led by certified project professionals. The benefits for participants are immense. Not only will the participants learn about the essentials of project management, but they will also learn how to apply the selective principles, tools, and techniques. This course is delivered in two formats:
The HALF DAY virtual course is instructor-led, real-time, and delivered via web conferencing technology to audiences around the world.
The ONE DAY physical classroom course is also instructor-led, real-time and delivered in physical classrooms or conference centers around the world. The One Day course will have more time for Q&A, networking, diving deeper into selective topics, and practicing selective tools, techniques, and templates.
Target Audience
The target groups for this course are anyone who is interested in project management and/or working on project teams. This includes:
General project stakeholders such as project team members, team leads, and resource managers
Business and functional professionals who are managing or working on projects, especially large and complex projects
PMO managers who are managing large numbers of projects who wish to improve project management across their organizations
Up and coming project professionals who want to sharpen their skills, capabilities, and credentials in managing project
This is an excellent introductory course for those who are considering the Project Management Professional (PMP)® certification or the Certified Associate in Project Management (CAPM)® certification.
Fees & PDUs
HALF Day – $169; 4 PDUs (2 Technical, 1 Leadership, 1 Strategic)
ONE Day – $599; 8 PDUs (4 Technical, 2 Leadership, 2 Strategic)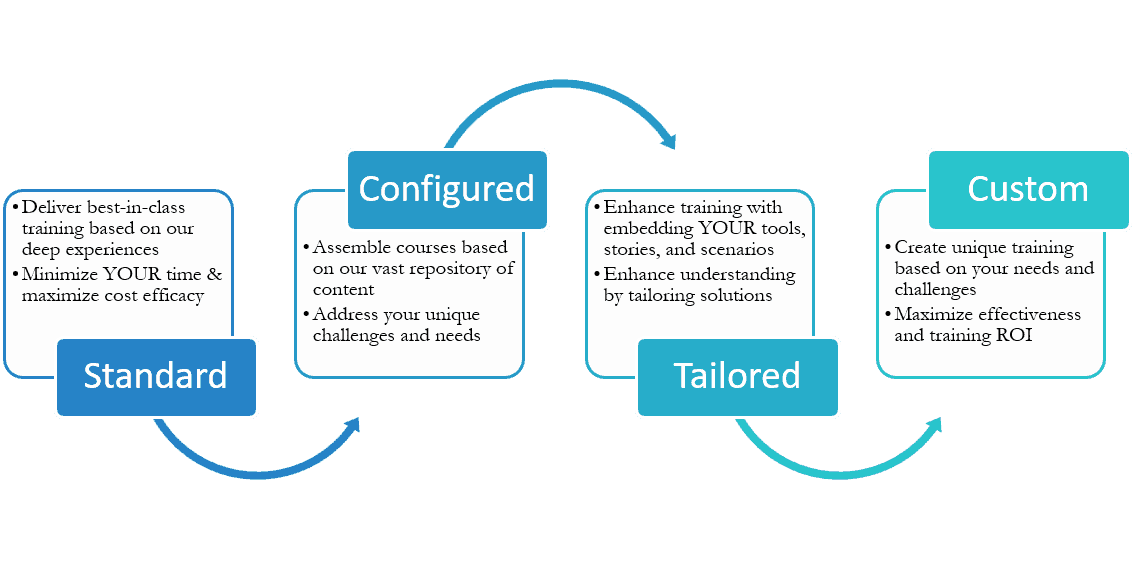 PMO Advisory offers a complete range of project management training, from standard courses for the general public to customized courses and solutions for our business and institutional customers. The framework above highlights our overall approach.
Standard – Standard courses are designed by PMO Advisory that combines the best of our knowledge and experiences. They are available immediately, and they are ideal for clients who wish to gain a general knowledge of project management.
Configured – Configured courses are assembled from our vast repository of content. This enables our clients to mix and match the content that best meets their needs. Configured class requires some additional time to evaluate and assemble, but they are highly effective to address clients' needs.
Tailored – Tailored courses are a combination of standard and configured courses embedded with your situations, tools, stories, and scenarios. By making the content more specific for the participants, there are greater connections and relevance which increases the understanding and absorption of training content.
Custom – Custom courses are created for our clients that uniquely match your situations and needs with our training solution.  Especially if there is a large body of participants, custom courses have by far the highest return-on-investment as they maximize effectiveness of outcome.
For project management, we can a wide range of topics ranging from the high-level (for broad understanding) to specific (for applications and synthesis).  Our most popular onsite and live virtual courses are 2 to 4 days, even though we have detailed content for up to two weeks.
PMO Advisory is also innovative. For example, we offer an innovative approach to problem solving with learning and development – the Triple Play.
"Triple Play"
For organizations seeking to maximize problem solving and training, we offer an unique and hybrid approach to learning called the "Triple Play".  This solution blends together three objectives, ideally designed for organizations who wish to explore and learn.  The solution is structured after a pre-agreed training agenda, which serves as both a guide to training but also for discussion.  In a typical triple play that are three days, we spend Day 1 and 2 training on the agreed content. But unlike traditional training, we pause and dive deeper into the various areas to evaluate the team's challenges and opportunities. Where feasible, we will provide our experiences and suggest common or best practices to address the issues. For longer discussions, we will create a "parking lot" and return to those issues on Day 3.  Thus by combining advisory with training, we achieve these three objectives:
Conduct highly relevant training customized for you
Discover (and in some cases remedy) challenges and risks as time permits
Create a roadmap for further development and continuously improve.
PMO Advisory builds our business through superior knowledge and competency, trust, and competitive pricing.  Our trainers are all project management professionals, in addition to being great trainers.  Please contact us at cert@pmoadvisory.com if you have questions or wish to engage us in an exploratory discussion.