Accelerated Learning:
Power Up Your Productivity:
Getting the Timing Right and Managing Dependencies
12:00 - 3:00 PM U.S. E.T.
PDUs: 4 (3 Ways of Working, 1 Business Acumen)
Power Up Your Productivity:
Getting the Timing Right and Managing Dependencies
During this workshop, we will delve into the significance of stakeholder management in project success. It is crucial to recognize that all projects are ultimately carried out for people. Understanding their goals, interests, emotions, and conflicts at an early stage can greatly impact the project's outcomes. After all, it is the "who" that defines the deliverables and outcomes of projects, and it is also the "who" that sponsors and funds the project work. This emphasizes the importance of effective stakeholder management as a vital first step in any project.
To facilitate a comprehensive understanding of stakeholder management, we have designed two engaging activities for the workshop:
Identify and analyze stakeholders on a sample project: In this activity, we will provide a sample project scenario and guide participants through the process of identifying and analyzing stakeholders. Participants will learn techniques for stakeholder identification, such as stakeholder mapping or creating stakeholder profiles. By recognizing the various individuals and groups involved in the project, participants will gain insights into their roles, expectations, and potential impact on the project's success.
Plan engagement with key stakeholders: Building upon the stakeholder analysis, this activity will focus on planning effective engagement strategies with the identified key stakeholders. Participants will explore different approaches to engage stakeholders based on their specific needs, preferences, and influence on the project. They will learn how to tailor communication channels, frequency, and content to ensure meaningful and productive interactions. This activity aims to equip participants with practical tools and techniques to foster positive stakeholder relationships and facilitate project success.
Throughout the workshop, we will emphasize the importance of empathy, active listening, and open communication when engaging with stakeholders. By understanding their perspectives, concerns, and aspirations, participants will be better equipped to align project objectives with stakeholder expectations, manage conflicts, and cultivate productive collaborations.
The workshop seeks to provide participants with a solid foundation in stakeholder management, enabling them to effectively navigate the complex dynamics of project environments. By applying the knowledge gained and utilizing the provided tools, participants will be equipped to create stakeholder engagement plans that foster project success and stakeholder satisfaction.
Pricing &  

Registration
Special offer: individual registration price is extended.
For purchasing bulk seats, please contact: cert@pmoadvisory.com
Individual Registration
This ticket is for individual with maximum of two selection seats. Starts at $49
Live-Virtual Seat

Verifiable Certificate
Upcoming 

Session Dates
Please note that schedules and dates are subject for evaluation depending on the interest expressed for the half-day training
Getting the Timing Right and Managing Dependencies
Abstract
When project management was first founded in the 1950's, the main domain of focus was managing time and schedule. The question of "when" continues to be true today. Hardly any work, not just projects, has milestones and deadlines. This workshop focuses on schedule management and the many related activities, such as activity sequencing and managing dependencies. We will also discuss some strategies to manage work under time pressure, such as fast tracking, scheduling crashing, time boxing, and others.
 As a part of the workshop, we are planning two activities:
Develop a rudimentary integrated project schedule

Create a project Gantt chart
Learning Objectives:
Explain the key components of managing schedule, including estimating duration, sequencing of activities, and managing dependencies.
Apply selective tools and skills such as integrated project schedule, Gantt charts, managing goals, and timeboxing to boost your productivity.
Schedule: thu | NOV 9, 2023, 12 pM - 3 PM US ET
Managing Resources and Cost Effectively
Abstract
Now we have addressed the question of what, who, and when, the next major domain is "how much". This workshop focuses on two highly related domains: resources and cost.  All projects require resources, whether they are people, materials, equipment, and others like intellectual properties. Naturally, these resources are often not free, and they require financial support from project sponsors and owners. These two domains are becoming more important in contemporary businesses as competition demands effective and efficient use of resources. We will also briefly introduce an important method of managing time and cost in project management, the Earned Value Management (EVM).
 As a part of the workshop, we are planning two activities:
Estimate the resources and budget required for a sample project.

Simulate a real world case of project cost using earned value management.
Learning Objectives:
Articulate the core principles of resource and cost management.
Apply selective tools and skills such as responsibility assignment matrix and project budgeting for your next project.
Develop a high-level understanding of earned value management.
Schedule: THU | DEC 14, 2023, 12 pM - 3 PM US ET
Essential Project Management Tactics for Everyone
Abstract
Abstract
"There are just not enough hours in a day!" This is a common refrain from busy professionals, and for project professionals, statements such as this are likely made on a daily basis. This is the reality of the contemporary work environment for most people. But instead of complaining or accepting, consider this mini course to power up your productivity.
We designed this course for busy people who want to work smarter. Serving as an introductory course to project management, this course starts with a tour of project management and explains why it is one of MOST common and essential business skills for professionals across all industries and functions. Throughout the course, we will highlight many of the tools and techniques that can boost not just your productivity but also quality.
Course Objectives:
At the end of the course, participants should be able to:
Articulate the core principles of project management and how they can apply to all types of work.

Apply selective tools such as managing goals, people, work, time, conflicts, communication, and risks from project management to boost productivity.

Develop a roadmap to further advance your project management skills, especially for those who want to pursue project management as a career.
Schedule: THU | JAN 11, 2024, 12 PM - 3 PM US ET
Effectively Managing Project Communication
Abstract
Studies have shown that managers spend an average of 80% of their time on communication, whether the forum is verbal discussions or written documents. For project managers, who are constantly juggling multiple activities across multiple people, we suspect the actual percentage of time spent on communication is likely to be higher.  In fact, in terms of frequency of reporting, communication is likely to be the most reported problem areas.  So how do project managers get ahead of the problem and design proper communication mechanisms to minimize confusions? Welcome to Workshop #6.
In this workshop, we will discuss how to plan for good communication including the tools and techniques for planning communication, understanding stakeholders (from Workshop #2), and developing a good communication plan.  As a part of the workshop, we are planning one activity – develop an effctive communication plan.
Learning Objectives:
Describe the importance and core principles of good project communication.
Apply selective tools and skills such as active listening, analyzing communication needs, and developing communication strategy.
Develop an effective communication plan for a sample project.
Schedule: WED | FEB 21, 2024, 12 PM - 3 PM US ET
Tackling Risk, Issue, Change, and Conflict Management
Abstract
Projects, especially the larger and more complex projects, are full of challenges.  In this workshop, we will take a closer look at these challenges including risks, issues, change, and conflicts.  Risks are future uncertainties, which can result in both positive and negative consequences.  As such, project managers often more time to plan and respond to risks. Issues are problems or obstacles that have occurred or are occurring, which means that project managers must confront them immediately.  A particular type of challenge is change.  Change is a constant, and unless it is well managed, change can be disruptive at best and detrimental at worst.  Another potentially vicious challenge is conflicts, which are intense disagreements over priorities, processes, or relationship.  
 As a part of the workshop, we are planning four activities: using the templates provided, analyze a project to identify risks, issues, changes, and conflicts.
Learning Objectives:
Describe the common project challenges: risks, issues, changes, and conflicts.
Apply selective tools and tools such as risk register, issue logs, change management processes, and productive conflict management styles.
Develop hands-on skills to identify risks, manage issues, and tackle changes.
Schedule: THU | MAR 21, 2024, 12 PM - 3 PM US ET
Leading Projects and Working with People
Abstract
Even though "human" is a type of resource, its importance is self-evident. As such, we are dedicating an entire workshop focusing on people.  In addition to a brief discussion on leadership theories and ways of motivating people, we will also discuss a common challenge in projects – a lack of clear roles and responsibilities among the project team members.  This deficiency can cause headaches for the project managers, and in the worst case, confusing roles can also cause conflicts.  In addition, this session will also discuss project negotiations, and how negotiation can be an effective tool for resolving disagreements and conflicts.
As a part of the workshop, we are planning two activities:
Apply RACI to drive clarity of responsibilities on projects
Discuss principles of forming effective teams
Examine selective project negotiation scenarios and determine optimal approach to achieving agreement
Learning Objectives:
Articulate the core principles of project leadership, negotiation, and creating high performing teams.
Apply selective tools and skills required for effective leadership, driving clarity of roles and responsibilities, and overcoming differences thorough negotiation.
Schedule: THU | APR 18, 2024, 12 PM - 3 PM US ET
Power Up Your Productivity: Applying Agile Project Management on Dynamic and Ambiguous Projects
Abstract
This is currently a TBD. 
Agile project management is a relatively new topic, and the book "Optimizing Project Management' only has a peripheral discussion on this topic.  We plan to develop a chapter on this topic in the coming month.
Schedule: WED | MAY 15, 2024, 12 PM - 3 PM US ET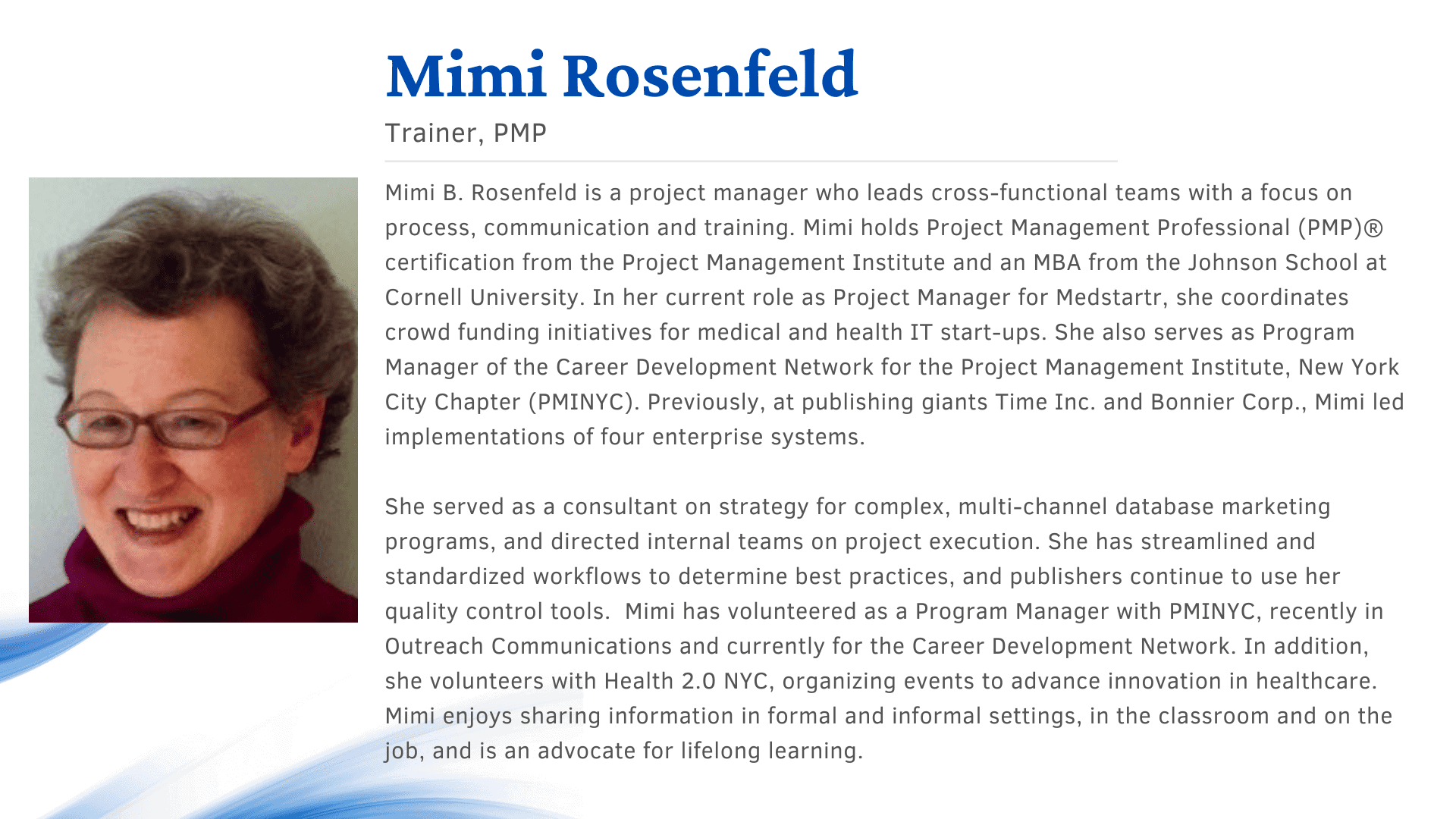 Interested to participate?
Join this course now