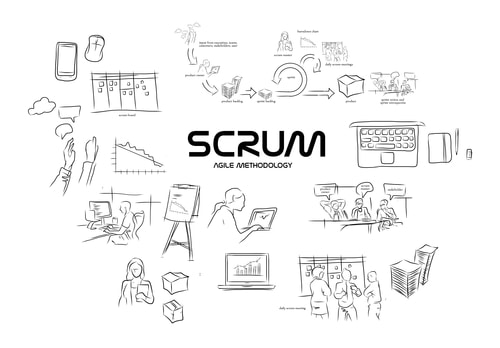 The value of Agile Scrum is nothing short of being astonishing. Here are four recent numbers to illustrate why Scrum is so popular and its growth so stunning:
94% of all Organizations practice Agile [1]
86.9% of Agile Scrum users observed increased profits [2]
Agile project (but not necessarily Scrum) achieves a 39% success rate versus only 11% for waterfall as noted in the Standish Chaos Report of 2015. Amazingly, Agile is 3.5x more likely to be successful. [3]
Agile Scrum Project Managers earn a 23% higher pay [4]
Scrum's focus is on value-driven delivery that helps Scrum teams deliver results as early in the project as possible. Moreover, managing changes is easier through the use of short, iterative product development cycles and frequent interaction between customers and Scrum Teams. It is easy to see why the adoption of Agile in general and Scrum in specific has expanded beyond the traditional IT departments into Legal, finance, HR, procurement and other groups. Scrum is not only the go-to-product development methodology across silicon valley ventures including Google, Salesforce and Yahoo but also have found their home across Government, Hospitals and even the Education sector. This has fueled a huge demand of Scrum Practitioners and certified Scrum professionals commanding a salary premium unparalleled across the Industry.
The Scrum framework has been referred to as the steroids for software delivery, enabling Teams to increase their velocity by 800%. But inferring "You need a better process to work as a Team" is akin to the investment advice of "To be successful in the stock market, you need to buy low and sell high". Scrum is much more than a simple framework. Scrum supports our needs to be human at work: to belong, to learn, to do, to create and be creative, to grow, to improve, and to interact with other people. In other words, Scrum leverages the innate traits and characteristics in people to allow them to do great things together. The following six principles provide insights into how the framework delivers the greatest value in the least amount of time:
1) Empirical Process Control
Scrum prescribes making decisions based on observation and experimentation rather than detailed upfront planning. As succinctly illustrated by the 34th president of the United States Dwight D. Eisenhower: "In preparing for battle I have always found that plans are useless, but planning is indispensable". There are two ways to control any process—defined process control and empirical process control. Empirical process control is based on the three main ideas of transparency, inspection, and adaptation. This approach is more appropriate for processes that generate unrepeatable and unpredictable outputs than defined process controls.
2) Self-Organization
At one end are the highly controlled, hierarchical production systems such as in retail outlets or the hospitality industry. In these industries, rigid hierarchical processes of command and control are important for efficiency and risk management. At the other end are self-organizing entities, where no individual or office exerts control over the operation. At eBay and the stock exchange, for example, market participants—not a retail owner—decide the best way to move forward. As opposed to the traditional command and control style of management, Scrum teaches that today's workers have much more knowledge to offer than just their technical expertise and that they deliver greater value when self-organized. Consider the success of the Internet driven open-source world which while operating without a defined hierarchy, is a truly virtual enterprise. It is a process in which global order arises from the local interactions of the components of a system in disorder.
3) Collaboration
Scrum teaches that product development is a shared value-creation process that needs all the stakeholders working and interacting together to deliver the greatest value. Intense collaboration tools suggested by the Scrum framework include face-to-face communications, collocation, etc. Utilizing iterative and incremental development, the developers have an opportunity to collaborate constantly with the customers. Collaboration is working together to achieve a common goal.
4) Value-based Prioritization
The MVP (Minimal Viable Product) development methodology emphasized by Scrum is that version of a new product which allows a team to collect the maximum amount of validated learning about customers with the least effort. Delivering the greatest value in the shortest amount of time requires prioritization and dividing what will be done from what needs to be done. Given the various constraints any team faces, prioritization becomes an important factor when the value delivered has to be maximized.
5) Time-Boxing
Time is treated as a limiting constraint, and Time-boxing is used as the rhythm to which all stakeholders work and contribute. Scrum teaches that time is its primary constraint and, therefore, each process/activity of Scrum is allotted a fixed period of time called a "Sprint". In most complex projects—in which the customer may not be able to define very concrete requirements or is not confident of what the end product may look like—the iterative model is more flexible in ensuring that any change requested by the customer can be included as part of the project.
6) Know when to NOT use Scrum or Agile
Scrum and agile are not panaceas. While Scrum is a wonderful accelerator for many types of endeavors, such as projects in which the requirements are difficult to pin down, either because the requirements are difficult to determine or the needs keep on changing. But Scrum is less effective when requirements are stable, when the needs are specific, and when the stakes of getting it right the first time is paramount. In addition, for platform changes which impact the very foundation of the technology that everything else is built on, consider the pros and cons of using Scrum or Agile versus the more traditional project approach.
—–
As consultants and executives, we have seen so many Agile and Scrum projects fail because of the fundamental mismatch of methodology with the reality of the undertaking. Scrum is powerful and it can guide project teams to successful business outcomes through transparency, inspection, and adaptation in many but not all situations. Knowing when to apply Scrum using these six principles and when to apply another methodology, even waterfall, will ultimately lead you to be a more successful project professional and business executive.
About the Authors:
Mr. Deepak Bhaskaran (PMP®, ITIL®, CSM®, SMC®, SPOC®, SAMC®) is a Certified Agile Coach with 9+ years of Technology, Program Management, IT Outsourcing and consulting expertise. He has been associated with PMO Advisory, Microsoft, Hewlett Packard, IBM and Cognizant Technology Solutions. He can be reached at deep.bhaskaran@gmail.com.
Prof. Te Wu (PfMP, PgMP, PMP, and PMI-RMP) is a college professor and the CEO of PMO Advisory, a consulting and training firm. The firm is a global PMI Registered Education Provider (R.E.P.) striving to be the most comprehensive project management training firm (including SCRUM). You can contact him at twu@pmoadvisory.com.
References:
VersionOne's Ninth State of Agile® Survey, https://www.watermarklearning.com/downloads/state-of-agile-development-survey.pdf
Actuation Consulting Report
InfoQueue's "Standish Group 2015 Chaos Report – Q&A with Jennifer Lynch", October 4 2015, https://www.infoq.com/articles/standish-chaos-2015
Career-Brite data. http://www.career-brite.com/asm.php.