PMO Advisory is planning a "Mega Bootcamp" that brings together all our best trainers for the Project Management Institute certifications including Portfolio Management Professional (PfMP), Program Management Professional (PgMP), Project Management Professional (PMP and CAPM), Risk Management (PMI-RMP), and Agile Certified Practitioner (PMI-ACP). The date is the week of May 16, 2016, and the venue is Stroudsmoor Inn (http://www.stroudsmoor.com) in the Poconos. Stroudsmoor is an award winning resort in the heart of the Poconos, and it is conveniently located 75 miles west of New York City right across the NJ/PA border. Participants can easily drive or stay overnight at the resort at a special rate.
The Mega Bootcamp is designed for busy professionals who want deep immersion on the subject. By bringing multiple talents together, participants can actively learn the latest test taking strategies, listen to our trainers and develop best practices, network with fellow participants, and perhaps most importantly create study sessions to support each other. In addition to the regular sessions during the day, participants are encouraged to form study groups that can last beyond the bootcamp. It truly creates an unparalleled environment to prepare for the certification exam. Currently, we are planning five bootcamps:
    Portfolio Management (PfMP) – 4 Days (May 16 to May 19, 2016)
    Program Management (PgMP) – 4 Days (May 16 to May 19, 2016)
    Project Management (PMP & CAPM) – 4 Days (May 16 to May 19, 2016)
    Risk Management (PMI-RMP) – 3 Days (May 16 to May 18, 2016)
    Agile Certified Practitioner (PMI-ACP) – 3 Days (May 16 to May 18, 2016)
But there may be more. PMO Advisory is receiving new ideas all the time, and if there are true demands, the firm can offer additional courses in SCRUM, PMI-PBA, COBIT, and other business certifications.
"As a working professional, I know how hard it is to find concentrated time to prepare for these difficult but highly rewarding professional certifications," stated Te Wu, CEO of PMO Advisory. "The Mega Bootcamp creates an optimal environment for learning and preparing the exam that includes our highly experienced and knowledgeable instructors, a highly structured environment conducive to learning, and an unmatched supportive atmosphere all designed to help you learn and pass the exam."
PMO Advisory is a socially minded management advisory and training firm with expertise in business and IT execution, serving as a resource to help enable ideas for organizations. PMO Advisory helps transform business ideas, plans, objectives and vision into reality using a proven, customizable consulting approach. The firm's advisory team is expert in portfolio, program and project leadership, process improvement, and business transformation. As a training company, the firm is striving to be the most comprehensive project management training firm in the world offering certification training in Portfolio (PfMP), Program (PgMP), Project (PMP, CAPM, PRINCE2, and MSP), Risk (PMI-RMP), Agile (PMI-ACP, SCRUM), and Service Management (ITIL series) training.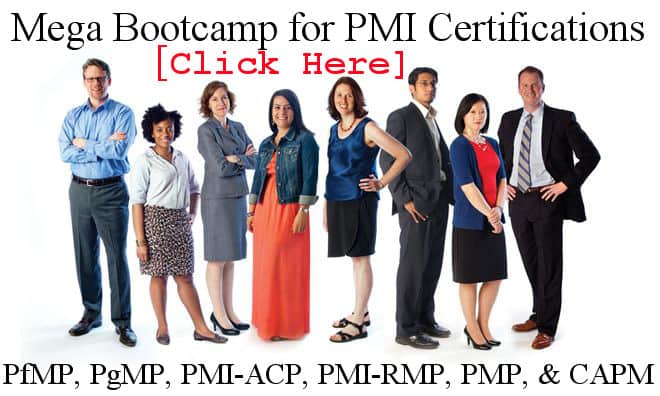 PMO Advisory Introduces Mega Bootcamp for PMI Certifications including PfMP, PgMP, PMI-ACP, PMI-RMP, PMP, and CAPM