PMO Advisory, the leading authority on Project Management certification training, is offering their unique "Complete Support Promise" program starting in January 2016. The program includes a 100% money back guarantee on its virtual, classroom, and onsite PMI certification courses for participants to achieve their project management certifications
PMO Advisory offers the best value and flexibility for busy professionals interested in obtaining Project Management Certification. With 4 different training delivery methods (online, virtual, classroom, and client site), competitive pricing and the best guarantee in the industry, 100% of your money will be returned if you don't pass your exam. PMO Advisory offers the best Project Management Prep Classroom Bootcamp packages in the New York City region. Attendees can be confident that enrolling in one of our Project Management Bootcamp courses is the fastest, most efficient, and most effective way to earn their CAPM®, PMP®, PMI-ACP®, PMI-RMP®, PgMP® or PfMP® certifications. This program officially starts on January 1, 2016.
The Complete Support Promise is actually a bundle of two programs for virtual, classroom, and onsite PMI certification courses. Designed for busy professionals, PMO Advisory has been including free additional attendance at its virtual bootcamp for free for one year. This support program has been in place since September 2014. Now, the firm is extending its promise with the Money Back Guarantee program that includes refunding additional exam fees.
"Project professionals are some of the busiest people in the industries, putting out fires and managing the latest surprises and crises" said Te Wu (PfMP, PgMP, PMP, PMI-RMP), CEO of PMO Advisory. "To provide them with maximum flexibility, we introduced the Intelicamp, our intelligent and accelerated virtual bootcamp, over a year ago in which professionals can come back as many times as wanted within a year. We study new trends in Project Management and proven accelerated learning techniques, to enable our attendees to learn the maximum amount of material in the shortest amount of time. Continuous improvement is our competitive advantage, and it's the reason we can offer the best guarantee in the industry. We're committed to our clients and employing both instructor-led and online training techniques to assist them in getting their Project Management certification. Furthermore, we are so certain of our quality that we now offer a new Money Back Guarantee program. Collectively, the twelve months support and money back guarantee forms our Complete Support Promise."
PMO Advisory is also creating new courses and innovating better ways to pass the certification exams. For example, the firm is organizing a "Mega Project Management Training Bootcamp" with instructor-led classroom training leading to certifications including Portfolio Management Professional (PfMP), Program Management Professional (PgMP), Project Management Professional (PMP and CAPM), Risk Management (PMI-RMP), and Agile Certified Practitioner (PMI-ACP). The date is the week of May 16, 2016, and the venue is the Stroudsmoor Inn in the Poconos (Pennsylvania). Stroudsmoor is an award winning resort in the heart of the Poconos, and it is conveniently located 75 miles west of New York City right across the NJ/PA border. Participants can easily drive or stay overnight at the resort at a special rate. PMO Advisory is also developing a new course in Certified Scrum Masters as well as working with their partners on advanced project management courses such as Enterprise Project Management and Project Management Office.
PMO Advisory is based in the Metro New York City region and offers instructor-led Project Management certification training courses in the New York City region and at corporate sites throughout the U.S. In addition to in-person training PMO Advisory also offers Project Management Courses entirely online enabling anyone with internet access to take advantage of our Money-Back Guaranteed Project Management Certification Training. PMO Advisory is a Project Management Institute® Global Registered Education Provider.
For more information, visit PMO Advisory on the web at https://www.pmoadvisory.com. For more information about the Complete Support Promise, please visit us at www.pmoadvisory.com/about-us/complete-support-promise.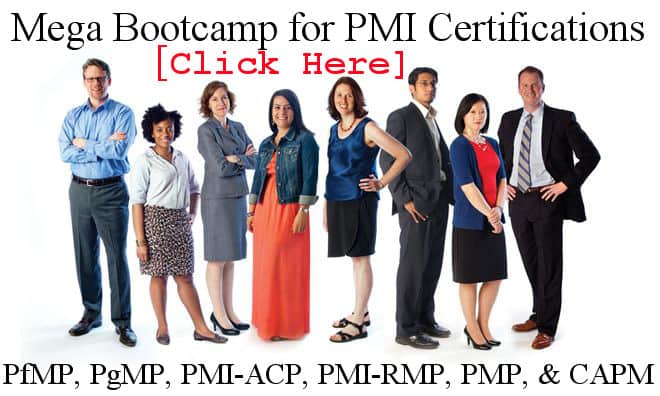 PMO Advisory Introduces Mega Bootcamp for PMI Certifications including PfMP, PgMP, PMI-ACP, PMI-RMP, PMP, and CAPM