PMO Advisory has developed its own unique and novel Price Matching Guarantee, in support of its social mission as an aspiring B-Corp. The company is so confident in its training solutions that it encourages participants to actively seek comparable certification training courses that originate and are delivered in the United States. PMO Advisory will match that price through a series of evaluations that looks at course content, richness of materials, delivery mode, quality, support guarantee, and other criteria.
What sets PMO Advisory apart from other training firms, other than the fact they are the only PMI REP offering training courses in all the major PMI certifications through all common delivery channels, is their "Expert Level Instructors" who are industry and academic professionals certified in the courses they teach; their "12 Month Support Program" novel to the industry which includes email support and future free attendance at their Intelicamps (real-time, certified instructor-led virtual courses); their own "Money Back Guarantee"; their unique Intelicamps that connect real-time participants from all over the world; and their large test banks covering PfMP, PgMP and PMP.
"We offer the best value in professional training certification courses, and our classroom participants have a very high pass rate on the first attempt. In 2015, the first attempt pass rate for PfMP, for example, is 100%. This is a testament to our quality. We invite our potential participants to shop around, and if they can find a comparable course to what we offer at a lower price we will offer our training course to them at that price," states Te Wu, CEO and Founder of PMO Advisory, himself certified in PfMP, PgMP, PMP, RMP, ITIL. "And if we cannot match their price, then we will offer access to our test bank for free or another equivalent offering."
Some of the price matching policies of the firm include: (1) Price Matching for courses that originate and are delivered in the US only; (2) Price Matching for classroom courses that include a mix of virtual and traditional learning only – not online courses; (3) Training Product Suites are complex and since PMO Advisory is a "full service provider", matching prices may mean a reduction in certain corresponding services; (4) And if PMO Advisory cannot match the price, they are going to provide participants with FREE access to the corresponding practice exam test banks including PfMP, PgMP or PMP/CAPM.
PMO Advisory is a socially minded management advisory and training firm with expertise in business and IT execution, serving as a resource to help enable ideas for organizations. PMO Advisory helps transform business ideas, plans, objectives and vision into reality using a proven, customizable consulting approach. The firm's advisory team is expert in portfolio, program and project leadership, process improvement, and business transformation. As a training company, the firm is striving to be the most comprehensive project management training firm in the world offering certification training in Portfolio (PfMP), Program (PgMP), Project (PMP, CAPM, PRINCE2, and MSP), Risk (PMI-RMP), Agile (PMI-ACP, SCRUM), and Service Management (ITIL series) training.
For more information, visit PMO Advisory on the web at https://www.pmoadvisory.com.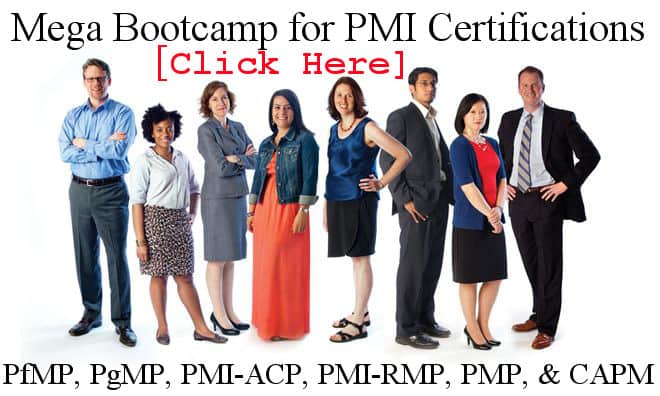 PMO Advisory Introduces Mega Bootcamp for PMI Certifications including PfMP, PgMP, PMI-ACP, PMI-RMP, PMP, and CAPM