PMO Advisory, the leading authority on Project Management certification training, is advancing its social mission through discounts and value exchange with the new 2016 "Special Consideration" program. This program enables professionals who cannot otherwise afford the professional training up to 60% waiver on its virtual and classroom courses in a combination of discounts and value exchange.
PMO Advisory is an aspiring B-Corp that balances it business objectives with its social mission. The social mission is to help business, IT, and project professionals of all levels to maximize their skills and capabilities. This is accomplished through globally recognized certifications by offering high quality training in highly specialized fields at a competitive price. However, even though the pricing is highly competitive, the price may be beyond the reach of certain aspiring and practicing professionals such as full time students, the unemployed, and U.S. veterans.
The "Special Consideration" program is designed to waive up to 60% of the cost of the course through a combination of special discounts and value exchanges. Participants interested in the program must complete an application, provide justifications to support their fee waiver request, and as a part of the value request, describe how they can help the firm on a range of professional activities. By help the firm, participants are also helping them in a mutually beneficial way.
"The world is shifting quickly with technology replacing people in ever expanding functions and roles and sometimes with severe consequences. Too often we see affected professionals displaced and disenfranchised by these changes. Recent college graduates are finding it more difficult to find meaningful jobs. But for their sake and the sake of our country, these individuals must not give up, continue to find ways to grow and be competitive, and find meaningful work" said Te Wu (PfMP, PgMP, PMP, PMI-RMP), CEO of PMO Advisory. "I believe having a globally recognized certification serve as an important competitive advantage. That is why my firm is the first in the industry that offers a unique program to offset as much as 60% of the fees. We provide recent graduates, unemployed, U.S. military personnel (active or veteran) an opportunity to advance their skills and professional qualifications at incredible savings. Some would criticize us for not being complete altruistic, and that is fair as we still have to consider our business interests too. By creating a program that balances our social mission and our revenue goals, we strive to help as many professionals as possible."
PMO Advisory is known for its innovation in consulting and training. It is the first firm to offer Portfolio Management Professional (PfMP) training, the first to create a hybrid and virtual bootcamp called Intelicamp that provides one year flexible attendance and support, the first to offer the "Complete Support Promise" that includes a Money Back Guarantee program in addition to one year support, and the first to organize "Mega Camps" that includes Portfolio Management Professional (PfMP), Program Management Professional (PgMP), Project Management Professional (PMP and CAPM), Risk Management (PMI-RMP), and Agile Certified Practitioner (PMI-ACP) training in May 2016. Now, the firm is the first to offer a comprehensive program that strives to help as many professionals as possible and create a win-win for everyone.
PMO Advisory is based in the Metro New York City region and offers instructor-led Project Management certification training courses in the New York City region and at corporate sites throughout the U.S. In addition to in-person training PMO Advisory also offers Project Management Courses entirely online enabling anyone with internet access to take advantage of our Money-Back Guaranteed Project Management Certification Training. PMO Advisory is a Project Management Institute® Global Register Education Provider.
For more information, visit PMO Advisory on the web at https://www.pmoadvisory.com. For more information about the Special Consideration program, please visit us at https://www.pmoadvisory.com/training/discounts.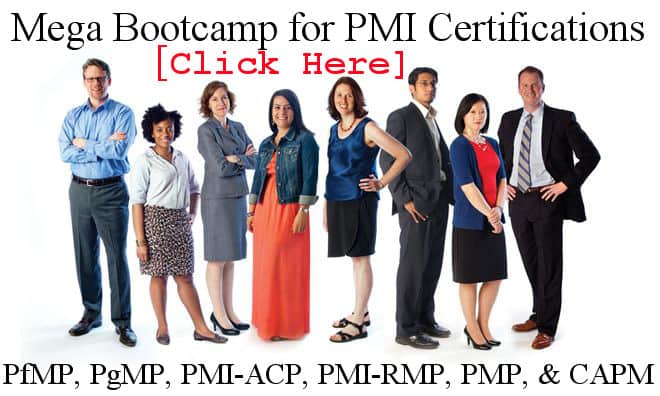 PMO Advisory Introduces Mega Bootcamp for PMI Certifications including PfMP, PgMP, PMI-ACP, PMI-RMP, PMP, and CAPM