We often hear "people are our greatest assets". Yet, when belt tightening occurs, training is one of the first "luxuries" on the chopping block. Training is often one of the last to recover even when things are going right for the organization. The reason is rather simple: politically convenient (since few people would complain as compared to cutting compensation), direct (saving is immediately), and easy to implement (stop the training). But the negative consequences mount.

In addition to what Mr. Langley expressed from the EIU study in which the delta of project success rate delta is 24% between poorly vs. well developed talent management programs, there is another compelling argument. Professionals want to improve. By holding them back, organizations are wasting their talents and likely lose them too. Plus, the work environment often becomes intolerable as organizations view human as machines than real people. In articles like NY Time's "Why You Hate Work?", the finding clearly attributes a good portion of "hating work" to poor or lack of training.

Human beings are strategic assets, and the need to manage US with respect and kindness are paramount. This is beyond project success rate, beyond financial gains, it is simply decency. This is something every organization should remember as they examine their talents.
Te Wu's comments on the below article
Mark A. Langley for CFO writes: All too often, talent is viewed as a cost. I want to help you understand why you should help your organization view project talent in particular as an investment rather than a cost.  The simple truth is there are financial and opportunity costs related to inadequate investment in talent — especially project talent, those charged with driving business results and executing your organization's strategy. In a recent Economist Intelligence Unit study for Project Management Institute (PMI), "Rally the Talent to Win," research showed that talent management deficiencies are blamed for unsuccessful strategy implementation efforts 40% of the time.
Why is this your problem? Before you draft an email to HR, think about this: PMI researchers have found that organizations in which talent management is aligned with organizational strategy have an average project success rate of 72%; when the two are not effectively aligned, the average project success rate is 58%.
Overall, organizations with alignment wasting 33% fewer dollars on projects, according to our research. Wouldn't you like to have one-third more money to invest in changing your business?  SNIP, the article continues @ CFO, click here to continue reading…..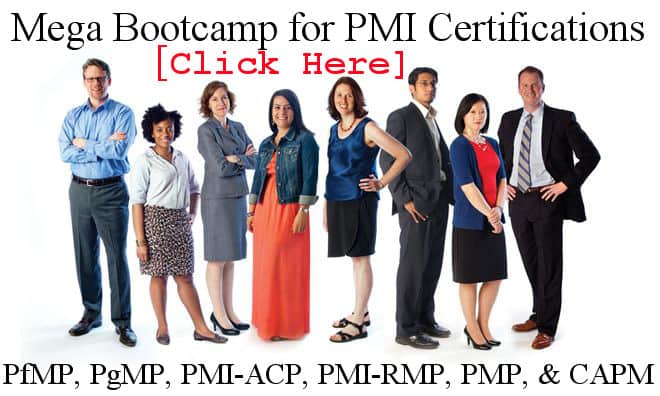 PMO Advisory Introduces Mega Bootcamp for PMI Certifications including PfMP, PgMP, PMI-ACP, PMI-RMP, PMP, and CAPM