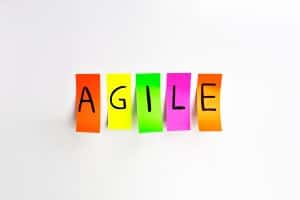 Agile In Name Only is so common it is known by its acronym, AINO. I've been teaching Agile courses for a number of years and many of them address this topic of being Agile In Name Only. I've been asked why is it so common. Firstly, I think part of it is a lack of knowledge and understanding of what it means to be Agile. Agile is a set of principles and practices; it is a mindset or an approach it is not a method.
I know something is not quite right when someone tells me they are using Agile, but when I ask them which method they are using, they don't really understand the question. Just this morning I was asked, "Which is better, Agile or Scrum?", which I similar to being asked, "Which is better, fruit or an apple." This question does not make sense, since Scrum is one of the Agile methods. These types of misnomers are unfortunately all too common in the Agile landscape today… I am now more often finding a lack of understanding about what it means to be Agile.
I think this is a big factor in why so many organizations are Agile in Name Only (AINO)… I think another reason for this, is that people don't want to miss the train… My analogy is that Agile is coming (like a train) into many industries and spaces. It is showing up everywhere, and they people don't want to miss getting on the Agile train. "What happens if I miss that train? Where will I be…?", is a concern that I often hear… This is a very real concern for companies and individuals alike. I know a number of project managers who are quite skilled at traditional project management and are very worried about their job, because of the onset and increased expansion of Agile in the workplace. They are worried where they will fit in and want to make sure they learn now and get certified in Agile so that they don't miss the Agile train.
If you want to make sure you're not doing AINO (Agile In Name Only), make sure that you are well educated on the Agile mindset and the method that you are choosing to implement. If you simply pick a number of Agile practices without making sure you're following the principles and values of Agile, as per the Agile Manifesto, you may find yourself being Agile In Name Only. Spare yourself from this by getting a good education and a valuable certification to support your knowledge and skills in Agile.
You can also review a previous recorded webinar "Everything You Need to Know about PMI-ACP". If you are interested in learning more about Agile and the Agile mindset/ approach and how this relates to the PMI-ACP (Agile Certified Practitioner) certification, please consider registering for the PMI-ACP certification prep course, which I teach for PMO Advisory.
About Susan Parente:
PMP, PMI-RMP, PMI-ACP, PSM I, CSM, CSPO, CISSP, CRISC, RESILIA, ITIL, GLCP, & MS Eng. Mgmt.
Susan Parente is an instructor at PMO Advisory, an Associate Professor at Post University, Adjunct Professor at Montclair State University, and a Lecturer at University of Virginia. She is an author, mentor and teacher focused on risk management, traditional and Agile project management. Her experience is augmented by her Masters in Engineering Management with a focus in Marketing of Technology from George Washington University, DC, along with a number of professional certifications. Ms. Parente has 18+ years' experience leading software and business development projects in the private and public sectors, including a decade of experience implementing IT projects for the DoD.