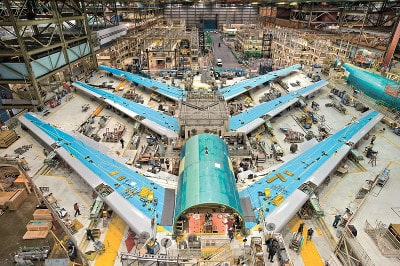 Great quick read at CNN titled, "Four million parts, 30 countries: How an Airbus A380 comes together". The Airbus A380 is the world's largest passenger plane and can sit over 500 people. It is double deck and what's amazing about this article, which I didn't realize, is that has over 4,000,000 parts produced by 1,500 companies across 30 countries around the world. Even the transport of the various parts to France for the final assembly is a logistical challenge because it has its dedicated transport ships as well as planes. What this all points to is how the A380 may be one of the greatest Portfolio, Program, and Project Management "feats" in the world.
With over 1500 companies involved you can imagine the parts that have to come together like a jigsaw puzzle, fitting uniquely in their position to create the A380 aircraft. Without standards, without process, without communication, managing the stakeholder and expectation in having the scope and quality down to a "T", that jigsaw puzzle will fall apart. Today's success did not come easy and the A380 may be the greatest feat of Portfolio, Program, and Project Management all coming together, anywhere.
The best thing this article is it appears Airbus has successfully turned things around from a decade ago when the Airbus A380 was a project management crisis due to a lack of integration of a project management model in the project lifecycle. Some may recall the A380 was the focus of a case study, "Strategic portfolio management: the key to the executive suite" (Garfein, Stephen J.) published by PMI. The case study addresses how to close the gap between strategy as developed by the executive leadership team and the actual results realized. At the time the A380 faced vast communications problem with A380 engineers' computers not able to talk to one another, major wiring troubles, European politics presented obstacles along with deeply embedded cultural divides and a lack of trust with workers in France and Germany. The story of the A380 shows that projects cannot be successful without comprehensive consideration of the organizational, social and political factors and effective cost management, time management, and risk management in the project lifecycle. For a deep dive into Portfolio Management, revisit the Garfein, Stephen J. case study as it firmly holds its ground today, 10 years later.
Prof. Dr. Te Wu, the founder Project Management training firm PMO Advisory is among the few people in the world certified in Project (PMP), Program (PgMP), Portfolio (PfMP), and Risk Management (PMI-RMP).