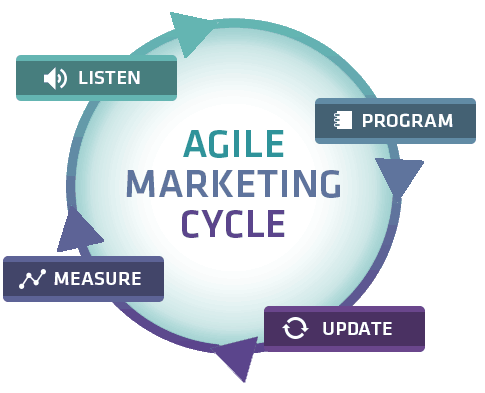 Strategic Agile marketing for small marketing teams and small business involves responding quickly to news, events or changes with the mindset of the target market, leveraging tools like social media and email that allow for fast communication and ultimately engagement in today's device driven world.  
Strategic Agile marketing is founded on the practices of Agile project management, which centers on adaptability, customer focus and shorter planning cycles.  The goal of Agile methodology in marketing is to improve the speed, predictability, transparency, and adaptability to change of the marketing function.  Marketing teams are generally eager to adopt Agile practices in how they operate because Agile strives for simplicity, releasing things early and often, and iterating based on market reactions.  Agile Marketing produces validation of ideas prior to committing to full-scale campaigns.
A recent study of marketers who have adopted Agile marketing showed that 93 percent said Agile helped them to improve speed to market (ideas, products, or campaigns). (see "Sixth Annual CMO's Agenda The Agile Advantage The Methodology," CMG Partners).
Scrum is only one of many Agile frameworks but the most popular Agile framework among marketing and creative teams.  Scrum is particularly well suited for small teams and small business because it is fairly straightforward, flexible,  and easy to adapt to any team's particular needs.   An effective Scrum based Agile marketing campaign needs a flexible plan that allows you to quickly adapt to new challenges in your environment.  Lastly,  Agile marketing within a Scrum framework allows a marketing team to start small, learn and scale.
Scrum offers marketing teams a framework to increase alignment with the business aims of the organization and the sales staff, to improve communication, both within and outside the marketing team, and to increase the speed and responsiveness of marketing. Using the Scrum framework enables marketing teams to self-organize around tasks aimed at achieving marketing goals, while still holding the marketing team accountable for their progress and results.   Scrum teams work in sprints, short bursts of work geared toward an outcome. At the end of each sprint (1-3 weeks) teams present their progress to the business, align their efforts and prioritize tasks for the period ahead. This is how a Scrum based marketing team manages production; keeps things moving; and delivers continuous, rapid improvement. The scrum process is iterative, allowing for short marketing experiments, frequent feedback, and the ability to react to changing market conditions.  
Scrum as applied to marketing generally involves forming teams, assigning roles,  and there are dozens of possible structures and processes that can be implemented from this point (all emphasizing collaboration over silos and hierarchy). Agile Marketing with the Scrum framework inherently builds stronger teamwork between internal and external teams largely due to the constant contact and collaboration creating true "community" within the business.  Scrum promotes visual management; tasks are displayed as stories on a board and moved along as work progresses making it easier for people to visualise their tasks and collaborate.  In Scrum, stories are short descriptions of the work that needs to be done. To keep stories manageable, teams assign "story points" to every story, reflecting the complexity of every marketing task and enabling to get better at estimating the time or effort required to finish a task.
Scrum was devised for delivery of complex software products to increase time to market but with some basic adjustments it can be successfully applied for Agile Marketing efforts producing smoother workflow, greater alignment, and improved productivity.  Agile marketing is a mindset placing the customer experience at the center and focusing on solving buyer problems and the buyer's journey.  Any small marketing team and small business can adopt Agile within their operations, providing they have an understanding and knowledge base of Agile and Scrum fundamentals.
In response to the growth in adoption of Agile Project Management by small marketing teams and small business, PMO Advisory, a PMI® (Project Management Institute) Registered Education Provider and New Jersey's leading project management training & consulting firm, is regularly delivering a 1 Day Agile & Scrum Fundamentals Workshop and a 2 Day PMI-ACP (Agile Certified Practitioner) Certification Prep Course.   Both courses are offered regularly at the PMO Advisory training center in New Jersey and to people everywhere live instructor led online.   
With our 1 Day Agile & Scrum Fundamentals Workshop ($299) our proprietary approach to hands on learning will give for small marketing teams and small business the ability and confidence to implement Agile methodologies on their first day back in the office.   Our 2 Day PMI-ACP Certification Prep Course is designed to enable you to pass the Project Management Institute's Agile Certified Practitioner's exam on the first try. Click here to learn more, our next scheduled courses, and to receive a discount coupon for either our 1 Day Agile & Scrum Fundamentals course or our 2 Day PMI-ACP Certification Prep course.
PMO Advisory is excited to deliver these workshops to marketing professionals throughout the U.S. through live online instructor led delivery.  There is no content difference between the in-person classroom experience and the online live experience – both include the same materials and curriculum. Today online courses boast the ability to break the virtual classroom into teams and team work spaces to work through the course.  Webcams, and group-specific work spaces have enabled online training to feel more like an in-person experience. Learn more at New Jersey's leading project management training & consulting firm, PMO Advisory.