Research has consistently shown that ideation is far easier than business execution. There are multiple reasons for poor execution such as: 1) Execution is genuinely more difficult because it's often big, messy, and many moving parts. 2) Execution is difficult to research. Most researchers focus more on strategic planning. 3) Execution is not "sexy". How many business professionals go to MBA school to be strategic thinkers versus grunt workers.
For more insights into business execution and a recommended framework for sustainable execution excellence, take a look at my recorded seminar on strategic business execution: https://www.youtube.com/watch?v=CfhudBQ3VwA.
Te Wu's comment on the below article:
Mark A. Langley for EuropeanCEO writes:  Strategic initiatives are too often relegated to the realm of good intentions left by the wayside. The truth is that well implemented, supported strategies can drive a company's growth and development
A large percentage of strategic initiatives are deemed failures and considerable money is wasted each year on these failures. Organisations report that only half of all strategic initiatives are successful, and that nearly 15 percent of every euro spent on strategic initiatives is wasted due to poor project performance: €129m for every €1bn spent. Strategic initiatives – the programmes that deliver the change businesses need to move forward – should be assessed, managed, and supported in very specific ways to ensure success.
Research done by the Project Management Institute, in partnership with Boston Consulting Group, along with work commissioned through the Economist Intelligence Unit, provides insight into the importance organisations place on implementing strategy, despite the significant difficulties they have in implementing associated programmes. The research also identifies the characteristics of organisations that are more successful with strategy implementation.
European CEO spoke to Mark A Langley, President and CEO of the Project Management Institute, about managing strategic initiatives and what organisations can do to improve the odds of success.
You have some interesting statistics about strategy. Could you shed some light on these?
In Why Good Strategies Fail: Lessons for the C-Suite, an Economist Intelligence Unit report sponsored by PMI, we found that 61 percent of firms struggle to bridge the gap between strategy formulation and implementation, and that only just over half of strategic initiatives are successful. Given that 88 percent of organisations said implementing these important programmes successfully would be 'essential' or 'very important' for their competitiveness over the next three years, it's critical that they figure out how to bridge this gap.  SNIP, the article continues @ EuropeanCEO, click here to continue reading….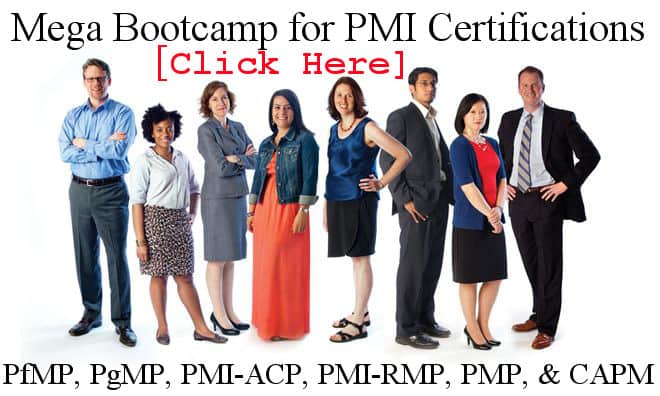 PMO Advisory Introduces Mega Bootcamp for PMI Certifications including PfMP, PgMP, PMI-ACP, PMI-RMP, PMP, and CAPM