ULTRA LIVE-VIRTUAL COURSE
About PMO Advisory's Ultra Live-Virtual Course:
Our Ultra Live-Virtual (uLV) Course is designed to provide you with the skills, knowledge, and insights necessary to pass the PMI certification exam in the first attempt.  Currently uLV is offered for PfMP, PgMP, and CAPM in 2024 with more to come. Whether you are an experienced professional seeking to advance your career or a novice eager to obtain the first project management certification, this course has something to offer you.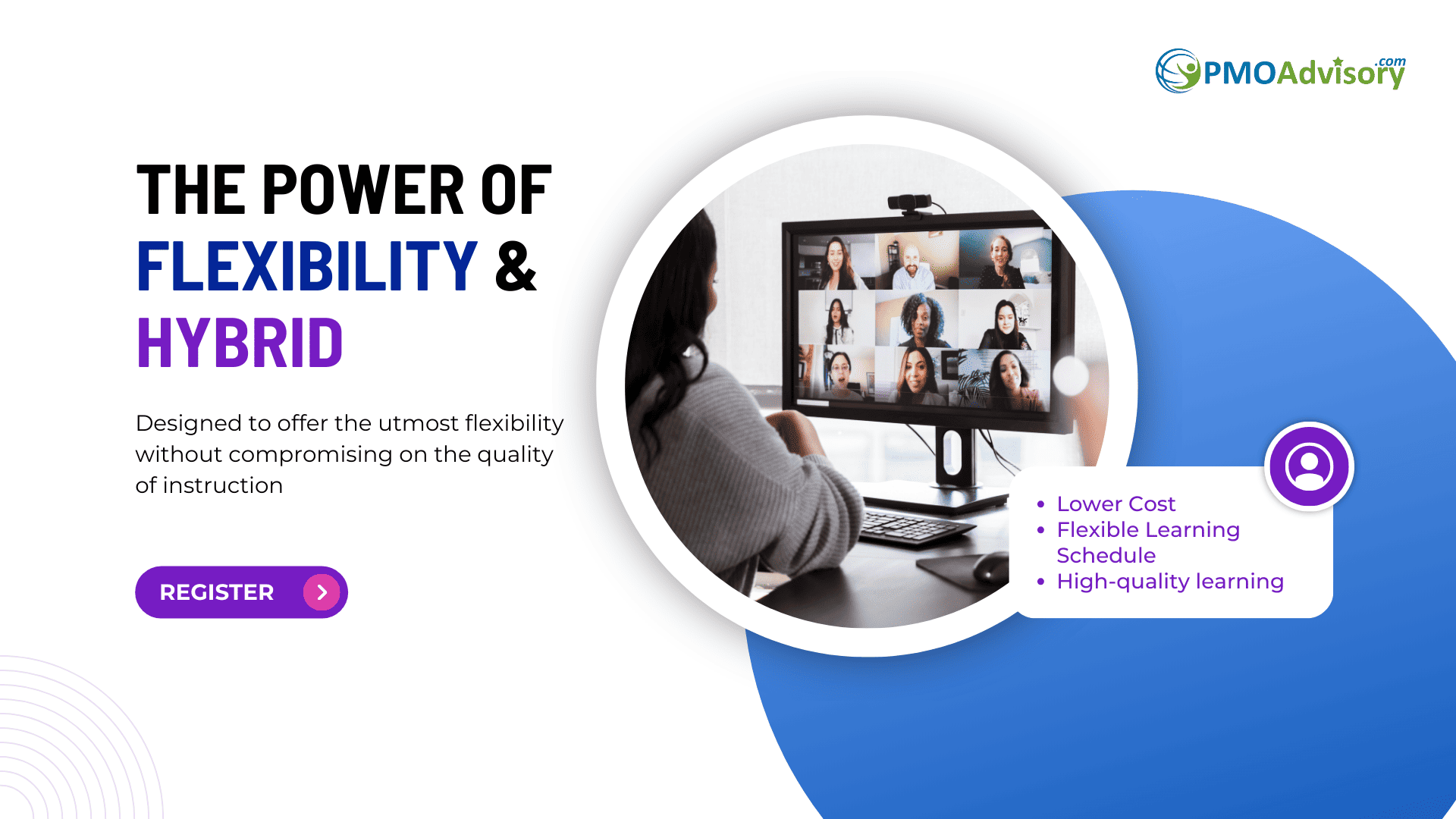 What makes it different and better?
The Ultra Live-Virtual fits a sweet spot between multiple levers: cost, flexibility, and real-time instruction and Q&A.  It is a hybrid course that has all the flexibility of the eLearning or pre-recorded class combined with the real-time, live virtual interation with certified instructor. 
The uLV is also designed for various learning styles as some people prefers to listen and relisten to recorded sessions many times then prepare for instructions or Q&A with the instructors.  We are also offer most of our uLV sessions in the evening (in US Eastern Time Zone), which these sessions feasible for people across the United States and in Asia Pacific. 
Comprehensive Curriculum: Our course contains all the components of the eLearning course and much of the value from our Live-Virtual courses. This will give you strong exposure to the content and instructor and to help you prepare for the certifications (currently offered for PfMP, PgMP, and CAPM).
With a combination of pre-recorded sessions and two 2-hour live-virtual sessions, you have the freedom to learn at your own tempo and on your own timetable.
The live-virtual sessions offer a unique opportunity to interact with seasoned instructors, pose questions, discuss real-world scenarios, and collaborate with peers.
Our course emphasizes practical skills, allowing you to immediately implement what you've learned to your professional endeavors.
Money Back Guarantee: This course offers the same money-back guarantee as our other courses as long as you follow our methodology.  Click here to read our methodology, which has a link to our money back guarantee policy.
Why should you register for the Ultra Live-Virtual Course?
Stay Competitive: In today's competitive job market, having PMI certifications certification sets you apart from the crowd.
Advance Your Career: Project management professionals with advanced certifications often earn more and are more likely to secure leadership positions.
Flexible Learning: Our unique combination of pre-recorded and live-virtual sessions accommodates your schedule.
Expert Guidance: Learn from experienced instructors who are experts in their respective fields.
Networking Opportunities: Connect with like-minded professionals and expand your network.
Practical Skills: Gain the practical skills needed to excel in real-world project management scenarios.
Who will benefit from the course setup?
Aspiring Project Managers: If you're looking to kickstart your career in project management, the PMI's CAPM certification is an excellent way to build your career.  The Entrepreneur magazine recently highlighted the CAPM credential as one of the top nine most in-demand certification for professionals.  The CAPM uLV course will provide you with the knowledge and skills you need to pass the CAPM exam.
Experienced Project Managers: For those seeking to advance to higher levels of project management, our Portfolio Management (PfMP) and Program Management (PgMP) courses will elevate your knowledge and help you prepare to pass those respective exams.  With a world of over 1.4 milllion active PMPs, PfMP and PgMP truly set you apart for the crowd.
Note: We currently do not have plans to offer uLV for PMP and DASM. But we are considering for Risk Management (PMI-RPMP) and Agile Certified Practitioner (PMI-ACP).  If you are interested in these or other courses, complete the Contact Form here.
Frequently Asked Questions
Question 1: Who is the instructor for the Ultra Live-Virtual Courses?
Answer 1: We try to stay consistent with our course lead instructors. For PfMP, it is Dr. Te Wu (PfMP, PgMP, PMP, PMI-RMP); for PgMP, it is Mike Otero (PgMP, PfMP, PMP, PMI-ACP); and for CAPM is Frank Kwakkelaar (CAPM).  You can see our list of qualified instructors here.  
Question 2: I already purchased a course, how do I upgrade or downgrade?
Answer 2: If you have already purchased an eLearning or pre-recorded class, you can simply upgrade by clicking the Registration button below and complete the form.  You would simply pay the difference plus an extra $50 for an administrative fee.  To downgrade, you can simply email us at training (at) pmoadvisory.com and we will refund the difference minus $50 for administration.
EXPLORE SOME OF OUR ULTRA LIVE-VIRTUAL COURSES
PRE-REGISTER FOR THE 2024 SCHEDULE
PfMP Ultra Live Virtual Sessions (2-hr Each)

Status

April 5 & 12, 2024 (1-3 PM U.S. E.T.)

OPEN

June 21 & 28, 2024 (1-3 PM U.S. E.T.)

OPEN

Sept 6 & 13, 2024 (1-3 PM U.S E.T.)

OPEN

This course is blended, combining pre-recorded videos and two live virtual sessions of 2 hours each with one of our PfMP certified instructors.
| PgMP Ultra Live Virtual Sessions (2 hour each) | Status |
| --- | --- |
| February 6 & 13, 2024 ( 10-12 PM U.S E.T) | Open |
| June 18 & 25, 2024 ( 9 -11 PM US E.T) | Open |
| All ultra live virtual courses is a combination of a pre-recorded learning with a short-live virtual sessions of 2 hours each. | |