Introducing Optimizing Project Management – A Complete Project Management Course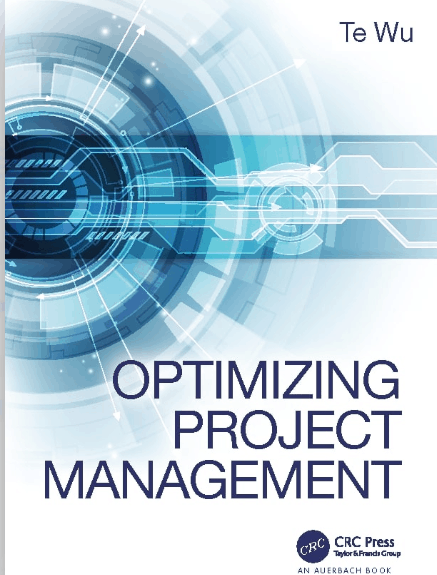 Special Partnership with PMI-SNEC
Optimizing Project Management Essential 1 Day Course
Date/Time: June 27, 2022, 9 – 5 pm US Eastern Time
Fee: $399 (including 1 day of live virtual training and 180 days access to the eLearning course with over 140 videos)
ABOUT THE COURSE:
Optimizing Project Management (OPM) course is designed as the most comprehensive project management course on the marketing today. The main objective is to provide a thorough foundation to project management, regardless of the approaches (e.g. traditional waterfall or predictive versus adaptive or agile).  The course is available in multile formats, even though institutions can further customize the options. Some standard options include:
eLearning – 140+ videos and growing with interactive projects and quizzes
Essential – 7 – 14 hrs real-time course + eLearning
Comprehensive – 35 hrs real-time courses + eLearning
The course content is based on Dr. Wu's latest book with the same name – Optimizing Project Management (May 2020 by CRC Press), and this book is widely available on Amazon, Barnes and Noble, and other fine bookstores. Written in plain language that is accessible for everyone, this book is an indispensable guide. In addition, the course extends significantly belong the book in 3 ways:
More updated content such as discussion of latest methods and project examples from real-life
More exercises, discussions, and project suggestions
More project management tools, templates and tools.
Participants can approach the course in two ways: sequentially from start to finish OR jump within the course to particular topics. This course (and book) is organized as follows, making it a truly unique and useful:
4 parts (Introduction, PM Life Cycle, PM Knowledge Domains, Beyond PM)
5 Life Cycles (Ideation, Initiation, Preparation, Implementation, and Transition and/or Closure)
12 Knowledge Domains (Integration, Stakeholder, Scope, Schedule, Resources, Cost, Communication, Risk, Quality, Supply Chain, Conflict, and Governance)
VALUE OF THIS COURSE:
This course is designed for professionals who REALLY want to learn project management, not just the superficial layer, but learn the topic methodically.  The course can be completely self-paced, but also works well with real-time instructions. Most importantly, this course provides the foundational knowledge to professionals preparing for project management certifications such as PMI's CAPM®, PMP®, CompTIA Project+®, PRINCE2® and other certifications.
COURSE OBJECTIVES:
This course serves three objectives for participants:
Truly learn the foundation of project management irrespective of the latest methodology
Develop a solid foundation for exam preparation for those who are preparing for project management certifications
Serve as a reference guide for those who are seeking more information about a particular topic
TARGET AUDIENCE:
This certification is designed for professionals who aspire to be a project professional, either at the entry-level such as a project coordinator or more advanced as a project manager. There are also strategic topics suitable for project professionals of all levels:
Business professionals who wish to develop a solid understanding of project management
Project professionals who wish to strengthen their project management knowledge, either for the next level of progress or preparing for certification exams.
CURRENTLY BEING USED:
The book, Optimizing Project Management, and specialized versions of this course are already being used in professional organizations and universities are around the world. Dr. Wu and his colleagues have successfully created training content, undergraduate courses, and graduate classes including Montcliar State University (Montclair, NJ), Stevens Institute of Technology (Hoboken, NJ), and China Europe International Business School (Zurich, Switzerland and Shanghai, China).  A version of this course is also being considered for Rutgers University (New Brunswich, NJ).
Content & Video List
This course contains an extensive list of topics, comprehensively covering project management and across the various approaches such as traditional predictive (e.g. waterfall), adaptive (e.g. agile), and hybrid. Currently, there are over 140 videos with 30 more in the pipeline. The goal is to keep the content fresh, relevant, and engaging.
Part 1: Setting the Stage
1.0          Project Management–What & Why?
1.1          Importance of Project Management
1.2          What is Project Management?
1.3          The Role of Project Manager
1.4          About Project Management Institute (PMI)®
1.5          Duty of Care
1.6          Why Project Management is an Exciting Field
2.0          Organizing Project Management Knowledge – Principles, Knowledge Domains, Life Cycles, and Agile Versus Traditional Approaches
2.1          Project Management Principles
2.2          Core Project Management Knowledge Domains & Additional Knowledge Domains
2.4          Project Life Cycle
2.5          Predictive Approach versus Adaptive Approach
2.6          Project Management Process & Optimizing Project through "Right Size" Project Management
Part 2: Projects in Motion – From Ideas to Results
3.0          Ideation – Aligning Projects with Strategy
3.1          Strategic Business Execution and Environmental Context
3.2          Entrance and Exit Criteria for Ideation
3.3          Project Selection
3.4          Making Sound Project Decisions
3.5          Developing a Culture of Execution
3.6          Business Case
4.0          Initiation – Starting the Project Right
4.1          The Challenges of Getting Started
4.2          What is the Fuzzy Front End?
4.3          Good Practices for Managing the Fuzzy Front End
4.4          Seven Steps to Managing the Fuzzy Front End
4.5          The Project Charter
5.0          Preparation – Planning to Achieve Optimal Implementation
5.1          About Preparation Phase
5.2          Project Complexity
5.3          Identifying and Confronting Project Complexity
6.0          Chapter 6: Implementing Projects – Getting it Done
6.1          The Art of Execution
6.2          Monitoring Projects
6.3          Managing Special Situations in Projects
6.4          Controlling Projects
6.5          Project Challenges During Implementation
6.6          Think Like a Project Manager
6.7          Achieve Sound Decisions
7.0          Project Transition and/or Closure – Celebrating Success
7.1          Transition and/or Close Projects or Phases
7.2          Specific Transitions and/or Closures
Part 3a: Knowledge Domain
8.0          Chapter 8: Project Integration Management – The Most Important Knowledge Domain
8.1          Importance of Project Integration
8.1          Example of Integrated Project Management
8.2          Project Integration Artifacts in Project Preparation Phase
8.3          Managing Project Work during Project Implementation
8.4         Control Performance, Manage Change, and Close Project
9.0          Stakeholder Management – Knowing the People
9.1          Importance of Engaging Project Stakeholders
9.2          Identifying Stakeholders
9.3          Planning Stakeholder Engagement
9.4         Engaging & Monitoring Stakeholder and Closing Stakeholder Management
10.0        Scope Management – Defining Scope and Determining Requirements
10.1        What is Scope Management?
10.2        Conceiving Initial Scope
10.3.1    Gathering Requirements & Defining and Refining Scope
10.3.3    Creating WBS
10.4        Validating, Controlling, and Closing Scope
11.0        Schedule Management – Understanding "When"
11.1        Importance of Schedule Management
11.2        Conceiving Initial Schedule & Planning, Estimating, Sequencing and Validating Schedule
11.3.1    Defining Project Activities
11.3.2    Sequencing Project Activities
11.3.4    Estimating Project Activity Duration
11.3.5    Develop and Validating Project Schedule
11.4      Controlling Schedule & Transitioning and/or Closing Schedule
12.0        Resource Management – Defining the Resources Required to Tackle Projects
12.1        What is Resource Management?
12.2A     Planning Project Resources
12.2B     Estimating Project Resources
12.3        Obtaining and Working with Resources
12.4        Leading Teams, Controlling Resources and Transitioning Resources
13.0        Cost Management – How to Develop and Manage Budgets
13.1        Effectively Plan Project Cost & Propose Initial Project Costs
13.3        Planning and Estimating Project Costs and Budget
13.3.2    Estimating Project Costs
13.3.3    Determining Budget
13.4        Managing, Controlling (Earned Value), and Closing Project Costs
Part 3b: Knowledge Domain (Continued)
14.0        Communication Management – Ensuring the Full Handshake
14.1        Importance of Project Communication
14.2        Developing Communication and Information Management Plans
14.2.1    Creating Communication Management Plan
14.3        Managing and Monitoring Communication and Information Exchanges
14.3.2    Monitoring Communication, Controlling Information Flows, and Closing Communication Management
15.0        Risk Management – Minimizing Surprises
15.1        Importance of Risk Management
15.2        Identifying Top-Level Risks
15.3.1    Plan Risk Management
15.3.2    Identify Risk
15.3.3    Analyze Risk
15.3.4    Plan Risk Response
15.4A     Monitoring Risk Response and Contingencies
15.5B     Implementing Risk Response
15.5        Transitioning Risk
16.0        Quality Management – Designing it Right
16.1        Project Quality Management
16.2        Determining Quality
16.3        Planning Quality Management
16.4A     Managing Quality
16.4B     Controlling Quality
16.5        Validating and Closing Quality Management; Special Case: Boeing 737 Max
17.0        Project Supply Chain Management – Extending Beyond the Internal Resources
17.1        What is Supply Chain Management
17.3        Planning Project Procurement
17.4        Managing Project Supply Chain
17.4.2    Managing Vendor
17.5        Transitioning and/or Closing Procurement
18.0        Leveraging Conflicts – How to Find the Optimal Balance of Conflicts
18.1        Introduction to Project Conflict Management
18.2        Initial Evaluation of Project Conflicts
18.3        Planning to Tackle Project Conflicts
18.4        Managing Project Conflicts & Evaluating Results
19.0        Governance Management  – Establishing Decision Framework
19.1        Principle of Project Governance
19.2        Initial Development of Project Governance Guidelines
19.3        Planning and Building Governance Structure and Processes
19.4        Operating Governance and Authorizing Project Transition or Closure
Part 4: Beyond Project Management
20.0            Working with People – Building, Mobilizing, Managing, and Leading Project Teams
20.1             Importance of Project Leadership
20.2            Building Strong Project Teams
20.3            Developing High-Performance Project Team
20.4            Understanding Project Executives
20.A00      Special Topic: Additional Topics to Chapter 20 – Working with People
20.A01       Special Topic: Critical Examination of Project Leadership
20.A02      Special Topic: Negotiation
20.A03      Special Topic: Engaging People Introduction
20.A03a    Special Topic: Engaging People – Strategy for People & Relationship Management
20.A03b    Special Topic: Engaging People – Skills for Managing People
20.A03c    Special Topic: Engaging People – Communicating is the Key
21.0        Program, Portfolio, Service Management, and Strategic Business Execution
21.1        What Happens on the Day After
21.2        What is Service Management
21.3        Beyond Project Closure
21.4        Business Execution in Rear View