Major Industries and Commercial Activity:  The D.C. Chamber of Commerce characterizes the local economy as diversifying and growing, though still narrowly specialized and externally driven. The Washington area ranks first among all national metropolitan areas in federal procurement dollars.  People often think of Washington, D.C. as a "company town" where most people work for the federal government or work for companies who rely on government contracts. However the outlying suburbs of Washington D.C, in Maryland and Northern Virginia is where defense and intelligence contracts are a major source of business.  Proximity to the Pentagon clearly has a lot to do with why defense companies locate their headquarters in northern Virginia and Maryland.  Local defense contractors include Lockheed Martin, the largest, as well as Raytheon, General Dynamics, BAE Systems, Northrup Grumman,Computer Sciences Corporation (CSC), Science Applications International Corporation (SAIC), CACI, and Orbital Sciences Corporation.  The Washington metropolitan area has a significant biotechnology industry; companies with a major presence in the region as of 2011 include Merck, Pfizer, Human Genome Sciences, Martek Biosciences, MedImmune and Qiagen.  Both PgMP and PfMP Certified Professionals enjoy strong demand in varied industries in the greater Washington D.C./Northern Virginia economy.
Dates:  PgMP Training September 19 & 20, 2019    PfMP Training October 3 & 4, 2019
Why PgMP Certification?  Having a PgMP® certification means that you have exceptional ability and knowledge to lead and manage programs as well as performance that contributes to the organization as a whole. By gaining this certification, you have the opportunity to lead or manage high-level programs and projects and even come up with strategies for businesses. PgMP certification is right for anyone who has shown that they have the ability to manage multiple, related projects across functions, organizations, or regions. Executives or functional managers who are interested in learning more about the benefits of establishing a project or program management office.   Certified PMPs who would like to demonstrate a higher level of expertise in program governance and program management.   Visit our PgMP page to learn more!
Why PfMP Certification?  PMI's Portfolio Management Professional (PfMP)® credential recognizes the advanced experience and skill of portfolio managers. The PfMP demonstrates your proven ability in the coordinated management of one or more portfolios to achieve organizational objectives. PfMP credential holders are responsible for the execution of the portfolio management process, communication around portfolio progress, and recommendations for action. Where project and program managers are responsible for "doing work right," this is an ideal credential if you are responsible for ensuring your organization is "doing the right work."  If you're an executive or senior-level practitioner managing a portfolio of projects and programs aligned with organizational strategy and focused on doing the right work, then the PfMP is the right choice for you.  Visit our PfMP page to learn more!
Venue:  Servcorp 1717 Pennsylvania Ave NW Suite 1025, Washington, DC 20006
How to get to Servcorp 1717 Pennsylvania Avenue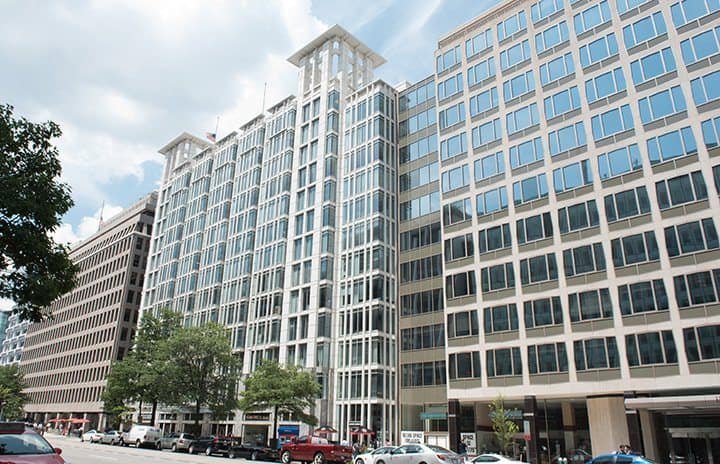 Located just minutes from the White House, 1717 Pennsylvania Avenue is one of the most prestigious addresses in the heart of America's capital. Located on one of the city's most important streets, 1717 Pennsylvania Avenue offers close proximity to the city's key government offices, major banking and financial institutions such as the World Bank, International Monetary Building and the Eisenhower Executive Office Building.  Conveniently located in the Central Business District, restaurants and retail amenities are just steps away, as are the Farragut West and Farragut North Metro stations that provide easy access to all of DC and its suburbs.
Google Map Area
(1717 Pennsylvania Avenue Northwest, Suite 1025, Washington, DC 20006)
PMO Advisory Training Location in Dallas, Texas