Major Industries and Commercial Activity:  Dallas boasts a broadly diverse business climate, with technological industries in the lead. Major industries include defense, financial services, information technology and data, life sciences, semiconductors, telecommunications, transportation, and processing. According to the Greater Dallas Chamber of Commerce, the Dallas-Fort Worth Metroplex holds about 43 percent of the state's high-tech workers. Among the 19 Fortune 500 companies headquartered in the area are Advance PCS, Dean Foods, ExxonMobil, Kimberly-Clark, Neiman Marcus, Southwest Airlines, and Texas Instruments. Dubbed the "Silicon Prairie," Dallas is among the country's largest employment centers for high technology. In addition, Dallas is known as a center for telecommunications manufacturing employment in the United States.   Both PgMP and PfMP Certified Professionals enjoy strong demand in varied industries in the great Dallas economy.
Dates:  PgMP Training May 26 & 27, 2020    PfMP Training May 28 & 29, 2020
Why PgMP Certification?  Having a PgMP® certification means that you have exceptional ability and knowledge to lead and manage programs as well as performance that contributes to the organization as a whole. By gaining this certification, you have the opportunity to lead or manage high-level programs and projects and even come up with strategies for businesses. PgMP certification is right for anyone who has shown that they have the ability to manage multiple, related projects across functions, organizations, or regions. Executives or functional managers who are interested in learning more about the benefits of establishing a project or program management office.   Certified PMPs who would like to demonstrate a higher level of expertise in program governance and program management.   Visit our PgMP page to learn more!
Why PfMP Certification?  PMI's Portfolio Management Professional (PfMP)® credential recognizes the advanced experience and skill of portfolio managers. The PfMP demonstrates your proven ability in the coordinated management of one or more portfolios to achieve organizational objectives. PfMP credential holders are responsible for the execution of the portfolio management process, communication around portfolio progress, and recommendations for action. Where project and program managers are responsible for "doing work right," this is an ideal credential if you are responsible for ensuring your organization is "doing the right work."  If you're an executive or senior-level practitioner managing a portfolio of projects and programs aligned with organizational strategy and focused on doing the right work, then the PfMP is the right choice for you.  Visit our PfMP page to learn more!
Venue:  Rosewood Court, 2101 Cedar Springs Road, Suite 1050, Dallas, TX 75201
Rosewood Court is strategically located in the heart of Dallas's Uptown District. It is a corporate address celebrated for its elegance, technology, and impeccable amenities. The neighborhood of Uptown Dallas is vibrantly unique with a luxury-urban neighborhood atmosphere. It has everything fun and functional within walking distance including a variety of dining and entertainment options.
How to get to Rosewood Court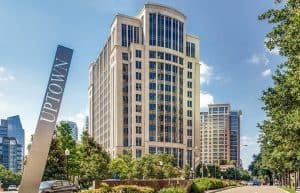 Airport: 20 minute drive to Dallas Fort Worth International Airport and 10 minute drive to Dallas Love Field Airport.
Parking: Valet in front of building and on-site parking garage
Trolley: The M Line Trolley conveniently stops on the corner of Mckinney and Pearl.
Bus: Dallas Area Rapid Transit (D.A.R.T.) has two bus stops within close walking distance to Rosewood Court.
Google Map Area
(Rosewood Court, 2101 Cedar Springs Road, Suite 1050, Dallas, TX 75201 is the training location and where you see Ocean Prime Restaurant on the map)
PMO Advisory Training Location in Dallas, Texas