Intelicamp Summary
Even though learning is a common experience shared by everyone, adults especially professionals learn differently. This article describes five key differences and its implications on training designs. To address these implications and to determine an optimal approach to maximize learning effectiveness, PMO Advisory created Intelicamp, a blended learning approach that includes a combination of real-time instructor led training, independent learning, eLearning, and multiple modes of practice tests that are delivered in a modular and agile way. Collectively, these innovative approaches maximize the learning experience and achieve the target objectives.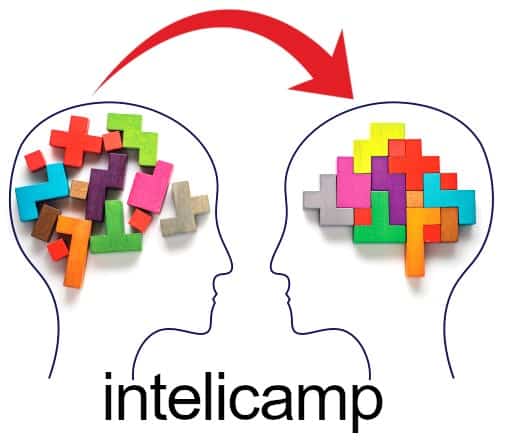 How Professionals Learn
Professional adults learn differently. After examining multiple approaches, theories, and frameworks, we draw on developments and approaches from Stephen D. Brookfield, Malcolm Knowles, and other researchers to come up with the five key differences and their implications:
Professionals are purposeful. Most professionals have a clear goal and objectives before they set out on the journey to learn. Therefore, training must be targeted to achieve the primary objectives. At PMO Advisory, our "bootcamps" are very focused on achieving the primary objective – pass the certification exam.

Professionals bring their experience and knowledge to the learning environment. Thus, professionals require time and space to reflect and assimilate their existing experiences and knowledge with new knowledge. Relevance and active application are two of the most important considerations to maximize learning.

Professionals are rightfully proud and ambitious and respond better to clear feedback. From a training perspective, this means that the training environment must be encouraging and constructive. Just as important, the course design should incorporate tools to provide clear metrics of improvement, so the professionals know they are getting closer to their goals.

Professionals are busy, and very often, their greatest investment in training is not the training cost but the opportunity cost of their time. To minimize the time required to learn new materials, the training design must be surgically focused on the primary objectives but also take into account the various learning styles. Some professionals prefer learning by doing (kinesthics), observing (visual), listening (auditory), or multi-modal (combination of above).

Professionals have limited attention spans, and they are largely due to two major factors: 1) Professionals are more likely to be busy, and they can be distracted by work, personal situations, and other environmental factors.  2) Adults, in general, have a more difficult time to stay focused for a prolonged period of time. There are some training implications including making the content interesting and relevant, punctuate lectures with exercises and activities, apply different learning modalities to maximize attention, and engage participants to create a more interactive environment.
Optimizing Learning Through Intelicamp
With a deep understanding of the challenges (and opportunities) confronting professionals, PMO Advisory has created the Intelicamp approach in 2013 and has since redefined it. The success of the method is in the results – 100% success rate on passing the certification exam on the 1st try for those who follow our methodology.  
Intelicamp is a blended learning approach that combines the best of instructor-led, real-time learning with asynchronous learning.  The instructor-led, real-time training component is typically three sessions of four hours each or about 12 hours. Asynchronous learning includes a combination of videos, books, articles, and practice exams (depending on which certification). PMO Advisory usually develops its Exam Simulator, but sometimes we also work with other leading experts to pool our resources.
Here is how our Intelicamp optimizes professional learning and addresses the earlier five ways in which professionals learn differently:
All Intelicamps have one primary objective – passing the exam on the first try.  Depending on the standard's approach, for example, PMP is based on the

PMBOK® Guide

, which is a process-based standard while the Program Management and Portfolio Management Standards are now principle based, PMO Advisory devised different ways to help you prepare for the respective certification exams.

A professional's current experience is invaluable, especially for the principle-based exams such as PgMP and PfMP.

 But even for

CAPM, PMP, PMI-RMP and PMI-ACP, PMO Advisory, in the real-time sessions, uses a combination of experience sharing, storytelling, and case studies to highlight the important concepts, principles, and techniques required to pass the exam.

To make sure professionals understand the progress of their study, PMO Advisory's methodology for achieving a 100% pass rate on the first try is simple – pass our exam simulator in the Exam mode two times at 85% within seven days and take the actual exam within another seven days. Our exam simulators offer two modes: Flexible and Exam mode.  The test results provide clear and simple feedback to the learner on their progress.

As professionals are extremely busy, our approach saves learners considerable time by mentoring and guiding, like Sherpas, through the maze of activities to reach the final destination quickly. Along with this journey, we provide insights on what works, what may work, and what should be avoided.  The time and effort saved can be considerable – by one estimation, shaving off as much as 60% of the preparation time.

Finally, because professionals are busy with limited attention spans, we designed the real-time Intelicamps to be only four hours long and with a space of a week in between for the learners to reflect, relax, practice, and assimilate the knowledge. As the specific certification bootcamp roadmap shows, learners are encouraged to use the time in between the sessions to fully absorb the learning and pursue even additional ones on their own.  Our extended support program, including up to one year, means that professionals who suddenly get busy at work can return to the comparable courses for free within the support period. As a leader in training, PMO Advisory is also experimenting with other tools that will further enhance the learning experience and achieve the primary objectives.
Conclusion
PMO Advisory designed the Intelicamp, especially for busy professionals. By limiting the real-time portion of the course to just twelve hours, four hours per week for three hours, even the busiest of professionals can find time to take the course.  The real-time courses are excellent mechanisms for professionals to ask questions, engage the expert instructors and network with others. Then, in their own time and space, learners can leverage the extensive elearning, books, and other learning materials (depending on the exact bootcamp) to further and deepen their learning.  Most importantly, all of our bootcamps come with extensive practice questions that enable the learners to have clear feedback on their progress. By utilizing this combination of best practices for professional and adult learning, PMO Advisory has achieved and maintained the near impossible – 100% pass rate on the first try – by following our simple rule of "passing at 85% in the exam mode twice in 7 days and the exam in 7 days".
For more information about our Intelicamp, also known as our Blended Live Virtual Learning, please visit the respective certification bootcamp home pages: PfMP, PgMP, PMP, CAPM, PMI-RMP, and PMI-ACP.
Click the PDF icon to view or download our Intelicamp Infographic


If you're considering earning a PMI Certification while balancing full-time work, family obligations and other responsibilities, you're probably wondering how you'll find time to effectively prepare, mindful of the required logistics coupled with being pressed for time.  Blended (sometimes called hybrid) instruction has between 30 and 80 percent of the course content delivered online with face-to-face interaction – something achieved in our Intelicamp program virtually using Zoom (online video conferencing platform). With our intelicamp course format, busy working professionals don't have to travel anywhere, they can simply log in to the virtual live classroom from the comfort of their own home or office.
If you're considering our Intelicamp course, note in 2010, the U.S. Department of Education released a meta-analysis and review of empirical studies focused on online learning. Their findings revealed that "students in online conditions performed modestly better, on average, than those learning the same material through traditional face-to-face instruction" (p. xvi). In addition, they reported that blended instruction combining online and face-to-face elements had a larger advantage than purely online instruction (Means, Toyama, Murphy, Bakia & Jones, 2010).  
Our Intelicamp course is an interactive, supportive, and collaborative learning environment that offers the potential for you to have an effective learning experience on par with our in-person bootcamp, and for some people, it can be superior especially when convenience is factored in.
The Research Driving Intelicamp's Principal Design & Foundation:
Learner-Centered Education:

Palloff and Pratt (2013)

explain that an effective online instructor is someone "who is open to giving up control of the learning process" by making students active participants in their learning process. A learner-centered approach acknowledges what students bring to the online classroom—their background, needs, and interests—and what they take away as relevant and meaningful outcomes. With the instructor serving as facilitator, students are given more control and responsibility around how they learn, including the opportunity to teach one another through collaboration and personal interactions (Palloff & Pratt, 2013).
Collaborative & Interactive Learning:

Research has found that online instruction is more effective when students collaborate rather than working independently (Means et al., 2010; Schutte, 1996). There are a variety of ways for students to collaborate online, including synchronous and asynchronous discussions and small group assignments. When posed questions in advance, students have the opportunity to compose thoughtful responses and have their voices heard, as well as respond to one another in a manner not usually afforded by face-to-face instruction (

Kassop, 2003

).
Immediate Feedback:

Online learners generally have greater access to instructors via email and are able to have questions answered by their peers in a timely fashion on discussion boards. In addition, online tests and quizzes can be constructed with automatic grading capability that provides timely feedback (Kassop, 2003). Immediate and continual feedback throughout the learning process is beneficial for gaining understanding of difficult concepts, as well as triggering retrieval mechanisms and correcting misconceptions (Thalheimer, 2008).
Intelicamp's Unique Delivery To Make You Successful
On first blush Intelicamp's schedule of 1 session per week for 3 consecutive weeks can strike as inconvenient and unappealing (in a world wherein the concentrated bootcamp is the norm).   Please note by introducing time intervals between study sessions, you can remember more – even if you spend fewer actual hours studying. This is called spaced repetition, and it may be the most powerful technique in existence for improving your brain's ability to recall what you study.  Spaced repetition leverages a memory phenomenon called the spacing effect, which describes how our brains learn more effectively when we space out our learning over time.
"Work involving higher mental functions, such as analysis and synthesis, needs to be spaced out to allow new neural connections to solidify. New learning drives out old learning when insufficient time intervenes."   –   Pierce J. Howard, author  The Owner's Manual for the Brain
A study published in 2008 with over 1,300 subjects also attempted to answer this question of "the spacing effect", but this time with respect to a given test date. What they found is that the optimal gap between the first and second study sessions increases in relation to how far away the test is.   Benedict Carey interpreted their data in the book How We Learn and came up with the following optimal intervals based on different test dates:
| | |
| --- | --- |
| Time to Test | First Study Gap |
| 1 Week | 1-2 Days |
| 1 Month | 1 Week |
| 3 Months | 2 Weeks |
| 6 Months | 3 Weeks |
| 1 Year | 1 Month |
Hence if you're planning on sitting for your PMI Certification Exam at some point beyond 7 days of completion of your study, the "spacing effect" is evidenced you will achieve your optimal and best results from a learning framework delivered to you Weekly, and not in a multi-consecutive day bootcamp framework.
The 'spacing effect' is a phenomenon first observed during the early days of Psychology in the 1880s; spacing out learning over time has the potential to double retention over timescales relevant to school or college courses (Mozer et al., 2009). The effect is one of the most reliable in cognitive psychology, yet it is often under-applied in the pursuit of professional certifications.
While some forgetting may be inevitable, as a process the spacing effect is well understood by memory researchers, and steps can be taken to reduce forgetting.  One simple option is to manipulate the timing of study activities, and in particular to increase the gaps of time between initial learning and consolidation of work, which is exactly how and why Intelicamp may be the ideal course for you.
About Dr. Te Wu
Our CEO, Dr. Te Wu, has created an optimized approach to accelerate learning by leveraging multiple aspects of his professional and academic background.  He previously worked at Nabisco (now Mondelez) Global Learning & Development in the mid 1990s, including setting up and conducting technical training across ten bakeries in the United States, China, Indonesia, and Canada.  As early as 1995, he worked closely with some of the early pioneers in computer-based training (CBT). Later, he joined Accenture in the Change Management competency spearheading training design for major ERP initiatives at Fortune 500 companies. In 2003, he started teaching at universities, including the most recent course design and delivery for the MBA program at CEIBS in Shanghai (currently ranked as the top 5 business school in the world by Financial Times).  Training and learning aside, he has led major projects and programs, including leading a major ERP implementation that cost over USD 300 million. As a volunteer, he is a core committee member on multiple PMI Global Standard Committees, and he is also a US delegate on ISO TC258 for Project, Program, and Portfolio Management. He founded PMO Advisory in 2012, with the goal of helping professionals to maximize their project management skills and certifications through training.