Strategic business execution is complex, messy, and big.  "Getting it right" once or twice is often difficult enough; the challenge exponentially increases to achieve sustainable execution excellence.  There are no shortage of ideas and potential actions, but the journey to achieve sustainable results is fraught with pitfalls and wastes. PMO Advisory created the ExecutionIndex to enable organizations to be able to more objective compare the state of execution and benchmark with organizations of similar sizes and industries. By understanding the underlying factors and identifying ways to improve organization's ability to execution, organizations can now develop a roadmap for the journey to achieve execution excellence.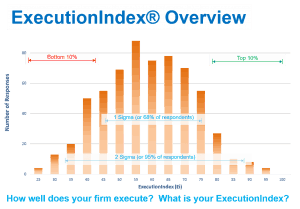 Based on our extensive survey study, we develop the ExecutionIndex, which is the composite score of multiple factors related to business execution in our study. The index is calculated on a range of 1 to 100, with an average and median that hovers at 75. Execution Index provides business executives an easy and intuitive way to benchmark their organization's ability to execute their strategy. To ensure the robustness of our survey and methodology, we retained Dr. Mark Kotkin to evaluate findings of this new index.
Do you know how well your organization executes? For a limited time, complete a short survey and we will send you a customize report completely free that compares your organization's ExecutionIndex and a comparison of your firm with other similar organizations. Click here to read our latest blog about the ExecutionIndex.
We offer three main products in strategic business execution:
Consulting – We help organizations develop a realistic plan to improve strategic business execution (SBE)
Training – All our courses are related to SBE, and we can further customize training programs suitable for your organization.
Hybrid (or TriplePlay)- We have delivered a hybrid consulting and training product in which the training topics are used as executive offsite or workshop discussion points. At the end of the sessions, we will summarize our findings in an executive report.
Interest? Please fill out the form below or contact us at gen (at) pmoadvisory.com for more information.
ExecutionIndex and Mega Bootcamps are registered marks of PMO Advisory LLC.