Project management offices (PMOs) are designed for highly intense and complex project or operational environments. Also known in the industry as Centers of Excellence, Competency Centers, Program Management Offices, or Project Offices, the common purpose of PMOs are often in the need for planning, monitoring, controlling, and reporting. The more strategic PMOs also tackle risk management, strategic implementation planning, and integration.
We created Project Management Office Plus (PMO+) solution to provide both flexibility and rigor to confront today's business challenges. Our PMO+ is highly versatile designed to achieve your organization objectives – whether the objectives are to implementing single complex programs or to providing management support to an intense environment. Our services ranges from assessment, design, establish, and even operate. There are approximately 25 capabilities within the PMO+, and they can be organized in three levels:
Essential – These capabilities are designed for monitoring, controlling, and reporting.

Advanced – These capabilities seek to maximize planning, governing, and risk management.

Strategic – These capabilities are designed to link short term business objectives with long term goals impact across the organization.
The following is our comprehensive PMO+ capability map. Note: Some of the capabilities can fall into multiple levels, depending on the organization challenges and degree of sophistication.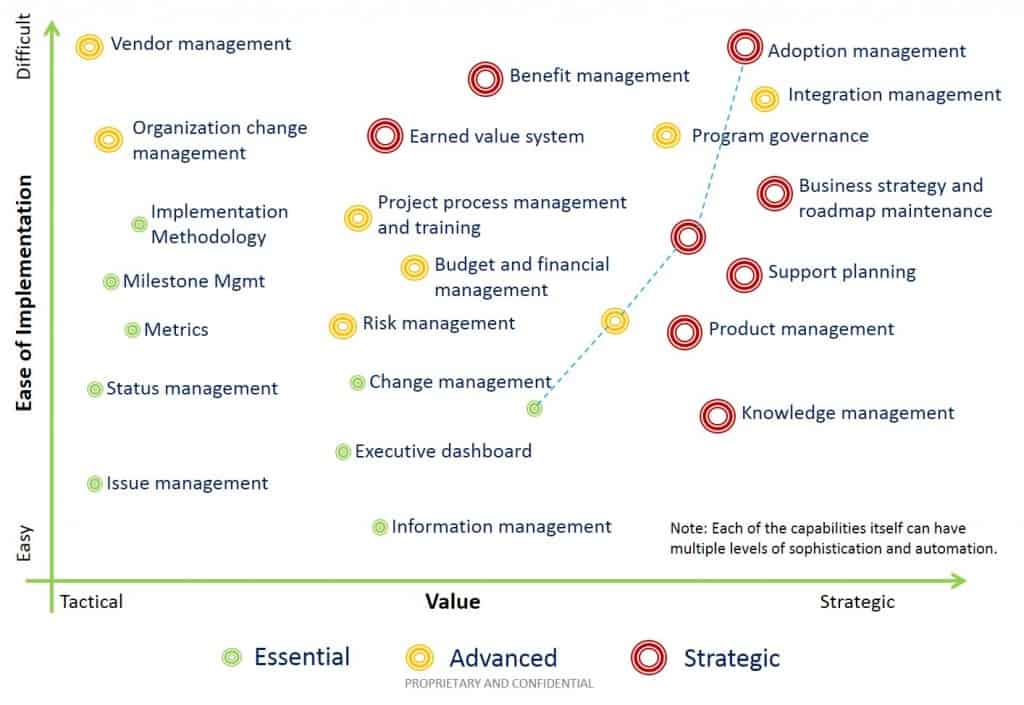 PMO Advisory offers a turnkey solution to the "Essential PMO" that is customized for each client. Once we establish a foundation, we work with our clients closely to define and implement the "advanced" and "strategic" PMOs.